Saudi Arabia top buyer of UK arms in 5 years: Report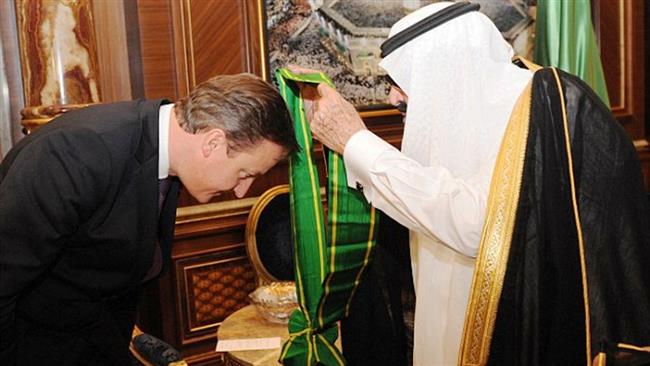 According to the latest figures released by the Campaign Against Arms Trade (CAAT) NGO, since Cameron was elected almost six years ago, Britain has also sold arms to 24 of the 27 states on its own list of "countries of humanitarian concern," The Independent reported on Wednesday.
Apart from Riyadh's ongoing purchase of the 72 Eurofighter Typhoon jets, which are worth over six billion dollars at completion, major licenses worth over two billion dollars including Hawk fighter jets, bombs, guns and tear gas were sold to Saudi Arabia during the said period.
Based on the figures released by CAAT, the Saudis have access to twice the number of British-made warplanes than the Royal Air force has.
CAAT spokesperson Andrew Smith noted that the amount of arms sales to countries on the list, especially Saudi Arabia, shows that "human rights are playing second fiddle to company profits."
He went on to say that the income from arms sales "is being put over the rights of people being executed and tortured. It's completely inconsistent to condemn these regimes while signing off on billion-pound arms deals."
"Two-thirds of UK arms exports go to the Middle East, and that's unlikely to change. We know that Saudi Arabia is arming a number of groups in and around Syria, but we've no idea what weapons are being sent there. Once a weapon enters a war zone there's no such thing as arms control," Smith added.
Cameron has been under pressure to halt arms sales to Saudi Arabia which faces massive criticism from the international community for launching an unabated war against impoverished Yemen, its growing number of beheading and other forms of execution, cracking down on political dissidents and the most recent atrocity of the mass execution of Shia cleric Sheikh Nimr al-Nimr and 46 other people.
In October last year, during an interview with the UK's Channel 4, Cameron suggested that London's "relationship" with the Saudi Arabia supersedes its human rights record.
Source:
http://www.presstv.com/Detail/2016/01/07/444810/Britain-Saudi-Arabia-arms-sales-cameron–/
Comments
comments