Al Qaeda chief in India was educated in Darul Uloom Deoband India and Deobandi Jamia Uloom-e-Islamia, Banoori Town, Karachi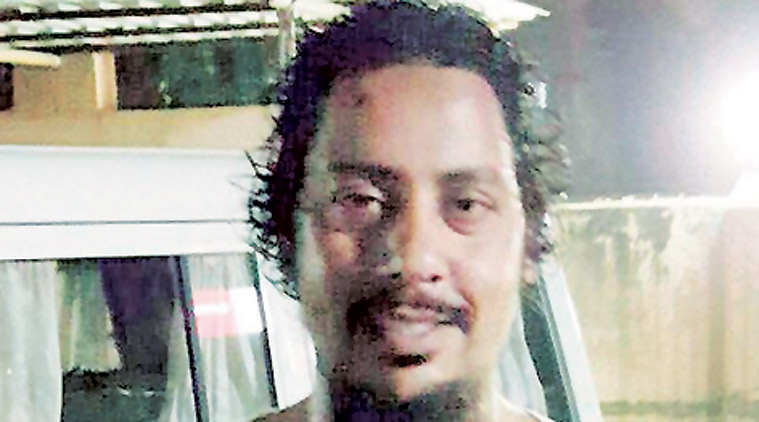 NEW DELHI: Almost out of the blue, intelligence agencies learnt that the elusive head of the Indian branch of al-Qaida had been born in a family of freedom fighters in Sambhal, less than 200km from the national capital. On Sunday, Sanaul Haq, 40, was unmasked as Maulana Asim Umar, the head of AQIS (al-Qaida in Indian Subcontinent) and one of the most wanted men on the security forces' list. Details of his life as a troublesome son of an Indian family are now trickling out.
TOI reported on Thursday that the most important outcome of interrogating the apprehended Mohammed Asif, training and recruitment chief of AQIS, was the revelation of Haq as the elusive head of the dreaded organisation.
Shocked perhaps, Haq's family in Sambhal in Uttar Pradesh, however, wasn't surprised. "For us, he died six years ago when the local intelligence agents told us he had joined a terrorist organization," his 70-year-old mother said on Friday.
In 2009, intelligence agents had landed at the house in Deepa Sarai village in Sambhal to inform the family that their son, missing for 14 years at the time and presumed dead, was alive and working for terrorist organisations Tehreek-e-Taliban Pakistan and al-Qaida. A bitter Irfan-ul-Haq, now 75, had promptly inserted advertisements in the newspaper disowning his son. The news was galling to a family whose forebears had fought the British during the freedom struggle.
"Sanaul was always fond of books, but one day he announced he wanted to study the Quran and Arabic at a madrassa," recalled the old man. The young student of Sambhal College explained to his family that if he studied to become a hafiz, they would reach heaven. The unconvinced father tried to dissuade the youngster, but he remained sullen and adamant.
Things came to a head one day in 1995 when he demanded Rs 1 lakh. "He wanted the money to go to Mecca for higher studies," said Irfan. "I was taken aback. I asked him to find a job to support the family or study in the local college, but he insisted he wanted to leave India. His uncle even beat him. We were all scared for him," the father added.
Their fears weren't unfounded. A few days later, Haq vanished. The family lodged a missing complaint but the son could not be located. His mother took him for dead and the family moved on. Until 14 years later, he resurfaced as a man in the ken of security forces.
Details of the AQIS head's transformation from a small-town student to the confidant of Osama bin Laden's successor Ayman al-Zawahiri were revealed to DCP (special cell) Pramod Khushwah's team by Mohammed Asif during interrogation. It was the Harkat-ul-Mujahideen (HuM) that had succeeded two decades ago in winning over Haq, talking him into leaving his village for Kashmir and then for POK.

"Umar discussed his hizrat (journey of separation) with me one day," the terrorist told his questioners. "Umar told me that he had been among the first lot of locals from Sambhal recruited by HuM under the guidance of Pakistan's ISI. He told me about having attended training in a province near Khyber Pakhtunkhwa in POK and of switching from HuM to Tehreek-e-Taliban Pakistan. Later, he joined the ranks of al-Qaida."
 Haq soon earned the trust of Zawahiri, and two years ago when the al-Qaida chief decided to form AQIS, he appointed the Indian as the amir of the new outfit. Along with the post came a new name, Maulana Asim Umar. With the disclosure, the pieces are finally falling into place about Haq's fascination for Mecca and Arabic and his disappearance from Sambhal.
Today, both the family and the intelligence rue that the Hindi Haq learnt in school was put to use in translating Zawahiri's provocative Arabic message in videos that were widely circulated to entice gullible young Indians like Haq himself into a life of violence.
Source:
http://timesofindia.indiatimes.com/india/Al-Qaidas-India-chief-comes-from-freedom-fighters-family/articleshow/50239495.cms
Head of al-Qaeda in Indian Subcontinent is from Uttar Pradesh
The head of al-Qaeda's South Asian wing is Sanaul Haq, a one-time resident of Sambhal, in Uttar Pradesh, over 150 km from the national capital, intelligence sources have confirmed to The Indian Express. Known to the world as Maulana Asim Umar, Haq was appointed amir of al-Qaeda in the Indian Subcontinent, or AQIS, by its overall chief, Ayman al-Zawahiri, last year.
Haq was identified, sources said, on the basis of the questioning of Sambhal resident Mohammad Asif and Cuttack-based cleric Abdul Rehman, who the Delhi Police said, had been tasked by Haq with setting up "AQIS recruitment networks" in India.
Rehman, 37, was arrested by a joint team of the Special Cell of Delhi Police and Bhubaneswar-Cuttack Commissionerate police from his house at Paschima Kachha village under Jagatpur police station early this morning. Asif was arrested in Delhi on December 14. Rehman, who holds two PhDs in Arabic and Islamic Studies from Deoband, runs a madrasa in the Tangi area of Cuttack district.
Haq's operational deputy, sources said, has also been identified as an Indian national from Sambhal, Said Akhtar. Investigators say they have evidence that at least five Indian nationals are part of the organisation's network in Pakistan.
Haq's identification marks a breakthrough in the international hunt for the Pakistan-based AQIS chief who has never been photographed or appeared in propaganda videos without a digital mask. Last year, The Indian Express was the first to report on the speculation that newly appointed AQIS chief was suspected of being an Indian national.
Delhi Police Special Commissioner Arvind Deep said today that Asif, who had grown up along with Haq, travelled to Pakistan through Iran in 2012, along with two other Uttar Pradesh men — whose identities have been withheld — to train at a jihadist camp in Miranshah, in Pakistan's north-west. There, he said, Asif, a 37-year-old father of two, received only ideological instruction, because of ill health, before being sent home in October 2014, to recruit more Indian nationals.
For his part, Rehman is alleged to have recruited at least one Odisha resident for training with AQIS.
Earlier this year, the United States announced it had destroyed what it said was the largest al-Qaeda camp detected in Afghanistan where upwards of 150 AQIS personnel were thought to have been training. Pamphlets and videos recovered from the site threw up evidence that many of the recruits spoke Urdu and Bengali, officials said.
Educated at the famous Dar-ul-Uloom seminary at Deoband, from where he graduated in 1991, Haq became allegedly involved in jihadist circles following the demolition of the Babri Masjid in December 1992, investigators say they had been told by his alleged lieutenants whose arrest was announced today. He disappeared from Sambhal in 1995, severing contacts with his family.
Maulana Ashraf Usmani, a spokesperson for the Deoband seminary, said he could not immediately confirm or deny if Haq had been a student there and added that there were no records for many students who dropped out before completing their theological education.
From Pakistani sources familiar with the jihadi movement, though, The Indian Express learned that Haq arrived in Pakistan that year, beginning studies at the Jamia Uloom-e-Islamia-a Karachi seminary that has produced several jihadist leaders, including Maulana Masood Azhar, the leader of the Jaish-e-Muhammad; Qari Saifullah Akhtar, who headed the Harkat-ul-Jihad-al-Islami, and Fazl-ur-Rehman Khalil, the leader of Harkat-ul-Mujahideen.
Haq, sources said, was mentored by Nizamuddin Shamzai, a cleric closely linked to the Taliban who once bragged of being treated as a "state guest" in Mullah Muhammad Omar's Islamic Emirate of Afghanistan.
An e-mail to the Jamia Uloom-e-Islamia went unanswered. The seminary says on its website that students from sixty countries, including India, have studied there.
In the late 1990s, after finishing his studies in Karachi, Haq is believed to have joined Fazl-ur-Rehman Khalil's Harkat-ul-Mujahideen, teaching briefly at the Dar-ul-Uloom Haqqania seminary in Peshawar, and serving at the Harkat-ul-Mujahideen's training camps in PoK . Following the events of 9/11, sources said, Haq moved back to Karachi, living from 2004-2006 at the Harkat-ul-Mujahideen's office in Haroonabad.
Haq's turn towards al-Qaeda began in the summer of 2007, after General Pervez Musharraf ordered the storming of Lal Masjid in Islamabad, a seminary run by Jamia Uloom-e-Islamia alumnus Maulana Abdul Rashid Ghazi. He made contact with Muhammad Ilyas Kashmiri, a top jihadist with close links to al-Qaeda. Interestingly, jailed 26/11 perpetrator David Headley had told the FBI of a "Karachi project" run by Kashmiri, with plans to target India.
In 2013, Haq delivered the first exhortations specifically targeting Muslims in India — the first of its kind in global jihadist writing. He invoked anti-Muslim communal violence in India, saying "the Red Fort in front of the mosque cries tears of blood at your slavery and mass killing at the hands of the Hindus".
Bhubaneswar-Cuttack Police Commissioner Rajendra Prasad Sharma said the Delhi Police got to know know of Rehman's links with the al-Qaeda group after tracking his telephone call records. The team, which landed in Bhubaneswar, yesterday raided Rehman's residence in Paschima Kachha village last night. Rehman's mobile phone, a tablet and his passport were seized.
Rehman, a father of three, was produced in a local court in Cuttack this afternoon following which the Delhi police team took him on transit remand. Sharma said that as per the FIR by Delhi police, Rehman was reportedly engaged in recruiting members for AQIS. He travelled to Pakistan, Dubai, London and Saudi Arabia. In India, he was "linked" to activities mostly in Karnataka, Jharkhand and Uttar Pradesh. Last month, he was detained briefly by Jharkhand Police after he had delivered what police said were inflammatory speeches. — with Debabrata Mohanty, Bhubaneswar.
Source:
Comments
comments