Deobandi Imam arrested on sodomy charges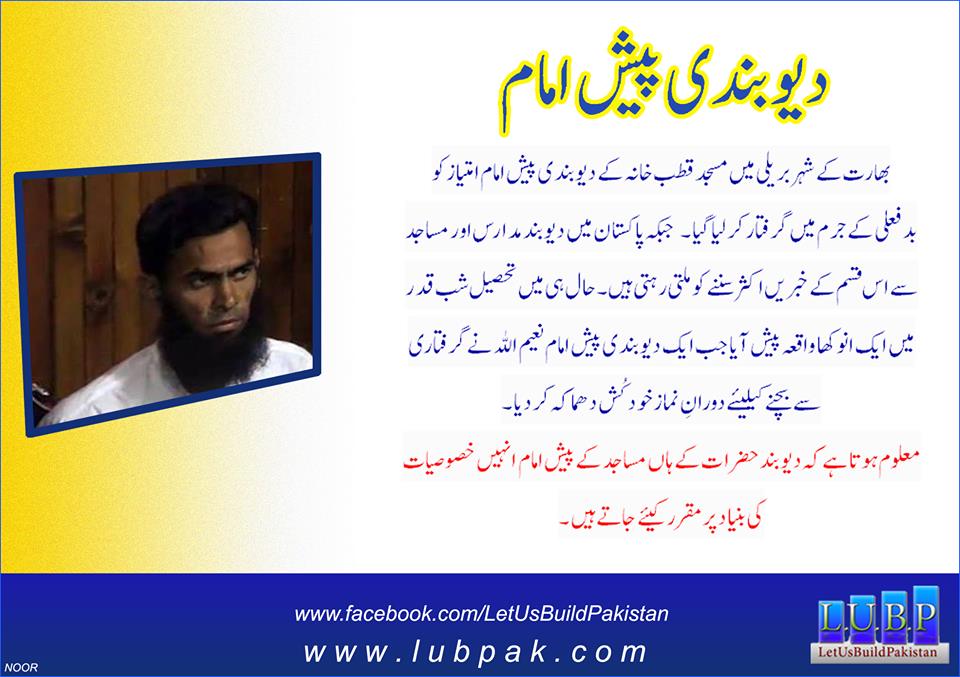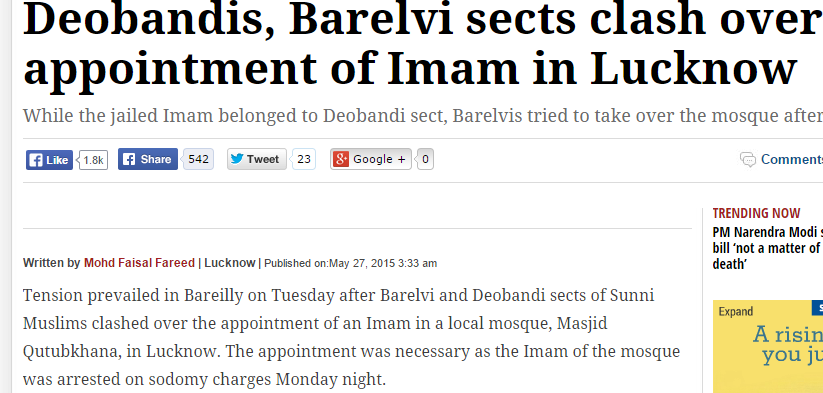 Tension prevailed in Bareilly on Tuesday after Barelvi and Deobandi sects of Sunni Muslims clashed over the appointment of an Imam in a local mosque, Masjid Qutubkhana, in Lucknow. The appointment was necessary as the Imam of the mosque was arrested on sodomy charges Monday night.
While the jailed Imam belonged to Deobandi sect, Barelvis tried to take over the mosque after he was arrested. Following this, the mosque was locked by the district administration. No namaz will be offered there for the next two days till the matter is resolved.
Masjid Qutubkhana — locals claimed it is registered with Sunni Central Board of Waqfs in Lucknow — is nearly 80 years old and has a sprawling courtyard with at least eight commercial shops on its premises. Located on a prime spot, the locality is known as Qutubkhana after the mosque.
ASP Rajiv Malhotra said a case of sodomy was registered against outgoing Imam Imtiyaz on Monday. The complaint alleged that the 12-year-old boy had gone to take tuition from the Imam, when he was allegedly sodomised. The Imam was arrested later in the night.
On Tuesday, Humayun Riyasat — claiming to be the secretary of Anjuman Islami, the committee that governs the mosque — appointed Maulana Faisal Tehsini, from Aala Hazrat Dargah (Barelvis), as the new Imam. Devotees were offering namaz at the mosque when Tasleem Raza Khan — younger brother of Maulana Subhan Raza Khan, the current sajjadanasheen of the dargah — reached the mosque with Tehsini.
The Deobandis objected to this as Tehsini belonged to the Barelvi sect. The Barelvis, however, claimed that the mosque belonged to them but Deobandis had occupied it illegally.
This led to a clash between the two sects, which continued for over half-an-hour.
When contacted, Bareilly District Magistrate Gaurav Dayal said: "We had to use force to disperse the rioters, but no one was injured. We will hold a meeting with the representatives from both sides tomorrow. Till then, they have been asked to maintain peace. The mosque has been locked with the consent of both sides."
Source: http://indianexpress.com/article/india/india-others/deobandis-barelvi-sects-clash-over-appointment-of-imam-in-lucknow/
Previously, in Peshawar, a Deobandi cleric was raped by some men after it was found that the Deobandi cleric had molested by another man. The police described it as a revenge incident.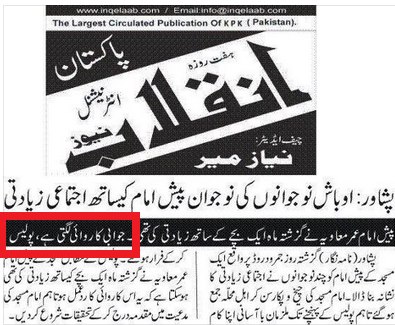 There appears to be something terribly wrong with Deobandi Imams and clerics. Recently, in Charsadda, Pakistan, a Deobandi prayer leader / Imam exploded himself as a suicide bomber to escape arrest by police.
بڑا مسلم بنا پھرتا ہے تکفیری دیوبندی
جو مسجد میں پھٹتا ہے
خود تو مرتا ہی مردود
اوروں کو بھی لیتا ہے
بڑا مسلم بنا پھرتا ہے تکفیری
جو مسجد میں پھٹتا ہے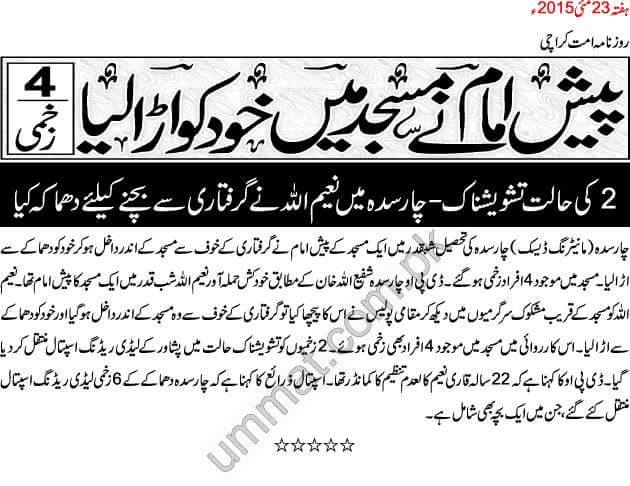 Comments
comments