The "Sufi" bureaucrat: Qudratullah Shahab – by Waseem Altaf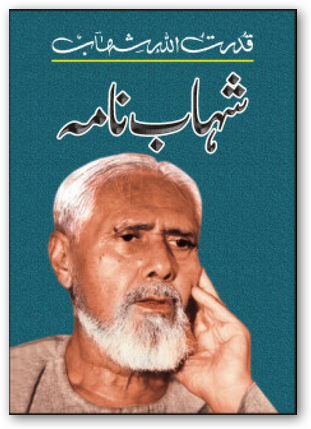 We as a nation are emotional people. We can be easily swayed by passion rather than wit. One problem with being emotional is that we lose the ability to critically analyze anything placed before us. Secondly, we tend to be selective in our perceptions and look at individuals in an either or mode.
Our emotionalism, thus, has effectively served the interests of those who presented themselves in that particular demeanor. Qudratullah Shahab was one such man-a super bureaucrat whose company provided lot of comfort to unelected rulers of this country. And we have numerous such cases who lead a full life amongst the most powerful, advise them how to rule and control the masses, how to handle potential threats and what steps are required to be taken to perpetuate their rule.
However, later, when all is gone, they make all out efforts to exonerate themselves; perhaps due to guilt or fear of afterlife or just for catharsis, but the fact remains that while in power they engage in every kind of machination and are always at the service of their masters.
Qudratullah Shahab was born into an elite family of Kashmir. His father was the governor of Gilgit while he got every opportunity to study in the best of educational institutions. Later he joined the Indian civil service and during later years served with the United Nations. However after his death in 1986 his auto biography appeared and today he is remembered as "hazrat"and "rahmatullah aley" while his spiritual dimensions are being "explored".
Ninety, the "out of this world" spiritual personality appeared in the last chapter of Qudratullah Shahab's book. Similarly it also entered into the life of the "great thinker" after he was no more a powerful bureaucrat. Spiritualism generally strikes a person when he has nothing left to look forward to; when the corridors of power are history and when one has fully availed all the perks and privileges characteristic of district management group.
However, prior to retirement, "ninety" generally remains in hibernation. It comes afterwards to give some soothing feelings to the one who wanted to have a "comfortable hereafter".
While you write your autobiography in a selective mode you also portray yourself as a saint surrounded by all kinds of evil and finally come out "triumphant" against all odds.
While you advise Ghulam Muhammad, Iskander Mirza and Ayub Khan as personal secretary in line with their wishes, "ninety" does not appear to inform you that their policies were against the national interest and steps taken by them were contrary to the supreme law of the land.
It was Shahab behind the "taking over" of Progressive Papers during the reign of Ayub Khan which was the flagship of progressivism in Pakistan. He was also Altaf Gauhar's partner in creating the national press trust and Pakistan Writers Guild- institutions designed to strengthen the hold of a military dictator over free speech. "Ninety" never appeared then to whisper in his ear that it was wrong to serve the interests of a military dictator. "Writers Guild" was created to buy and corrupt writers who would in return write in favor of the military regime. He himself became its secretary general and three leading business houses of Karachi- Adamjees, Dawoods and Habibs were convinced to award "cash prizes" to "deserving writers." The independent and vibrant media received a major blow but "ninety" never informed him that buying loyalties through corrupt practices was bad.
Shahab also suggested to Ayub Khan to shift the capital to Islamabad. He was one of the contributors to the 1962 constitution which gave absolute powers to a military dictator. He also proposed the prefix "Islamic" to the "Republic of Pakistan. "Ninety" never told him that bringing Islam into the affairs of the state would have grave consequences.
"Ninety" also never stopped him from presenting the "humorous character", Jamiluddin Aali" as a "distinguished" journalist!
When Baba-i-Urdu came under a cloud due to his companions' conspiracy at the Anjuman Taraqqi-i-Urdu, Shahab came to his rescue and through an official order, issued by President Ayub Khan at the request of Shahab, Baba-i-Urdu was restored to his former powerful position at the Anjuman. But it came at a price: Baba-i-Urdu was made to sign an article – in favour of Ayub Khan's Basic Democracy (BD) system. The article was published in a booklet titled Pak Jamhooriyet. (Zameer Niazi)
It was not only Baba-i-Urdu for whom respect and beneficence came with strings attached, but there were others – notable among them Ibn-i-Insha, Mumtaz Mufti and Shahid Ahmed Dehlavi – who wrote articles favoring Ayub's BD system and the so-called constitution fashioned by the dictator. Many magazines published special issues on the BD system and many literary journals such as Saqi, Naqsh and Afkaar published features eulogizing Ayub Khan. (Zameer Niazi)
Now just look at the vision and hollow approach of the "great thinker" which he expressed in a chapter in "Shahabnama" on the future of Pakistan. The following is not an exact translation from his writing but the ideas which he presented:
"People often express doubts about the future of Pakistan; these people are corrupt. Pakistan army is the best army in the world and America and Russia are afraid of it. If someday somebody would issue the "fatwa" of "jehad", the Pakistan army and the people of Pakistan would stand up to wage "jehad" against Israel. Pakistan must promote atomic science while it would be criminal to abandon the quest to acquire a nuclear weapon under threat. Our foreign policy in case of Israel is purely because of Islam and any flexibility would tantamount to treason against Islam. "baghal mein chhuri aur munh mein Ram Ram" is an undeniable reality. The so-called secular people of the West and the East have no love lost for Islam. We do not need the sentiment of patriotism but the madness; which thrills and heats our blood to wage "jehad" and opt for martyrdom."
How far does the preceding paragraph reflect ground realities and what Shahab's message is for the readers of this article to decide!
While the world is moving ahead with a scientific orientation we are looking for "pearls of wisdom" cast by opportunists who acted with all their pragmatism during their time but left obscurantist thoughts as guidelines for others to keep guessing any meaning there from for all times to come.
Comments
comments