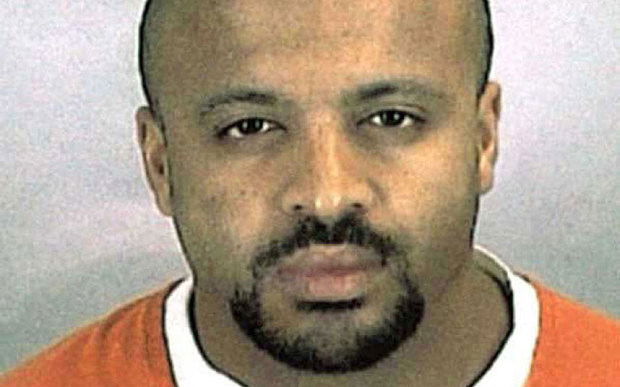 Senior members of the Saudi royal family were major al-Qaeda donors and were intimately involved with Osama bin Laden's terror network in the 1990s, one of the group's former members has testified to a New York court.
Zacarias Moussaoui, the so-called "twentieth hijacker" who had taken flying lessons but was arrested weeks before the September 11 attacks, made the claims in a long-running lawsuit alleging Saudi Arabian involvement in the plot to bring down the World Trade Centre.
Moussaoui, a 46-year-old French national who was diagnosed with delusional paranoid schizophrenia but declared mentally fit to stand trial in 2006, told lawyers that he had been ordered by bin Laden to compile a database of influential supporters.
"Shaykh Osama wanted to keep a record who give money … who is to be listened to or who contribute to – to the jihad," he said in broken English, according to the testimony that was first reported by the New York Times and has been seen by The Telegraph.
Among those listed were Prince Turki al-Faisal, then the Saudi intelligence chief; Prince Bandar Bin Sultan, the longtime Saudi ambassador to the United States and Prince al-Waleed bin Talal, a prominent billionaire investor.
Moussaoui claimed he was sent on a visit to Saudi Arabia on a private plane when he met both Prince Turki and Prince Bandar and hand-delivered a letter from bin Laden. Prince Turki allegedly then gave Moussaoui two letters in return.
Prince Turki bin Faisal al-Saud of Saudi Arabia (REUTERS)
"Shaykh Osama asked me give it by hand to them, and I returned with some, I believe two letter … I believe that he [Prince Turki] give me two letter to return to Shaykh Osama bin Laden," he said.
Moussaoui also claimed that he was involved in a number of other plots, and held discussions in Kandahar airport with a member of the Islamic Affairs Department of the Saudi Embassy about to "find a location where it may be suitable to launch a Stinger attack" against Air Force One.
it may be suitable to launch a Stinger attack" against Air Force One.
Also discussed was a plan to assassinate Bill or Hillary Clinton during a visit to Saudi Arabia in retaliation for ordering cruise missile attacks against al-Qaeda targets. Moussaoui also claims he was trained to make a 750 kilogram truck bomb to attack the US Embassy in London, but the operation was subsequently cancelled.
Saudi Prince Waleed bin Talal (AFP)
The Moussaoui claims come at a delicate time in US-Saudi relations as the country's new ruler, King Salman, cements his succession following the death last month of the country's longtime monarch, King Abdullah, and the US continues to negotiate with Saudi's regional rival, Iran, over its nuclear programme.
A statement by the Saudi embassy dismissed Moussaoui as "a deranged criminal" whose evidence had "no credibility" and was designed to "get attention for himself and try to do what he could not do through acts of terrorism – to undermine Saudi-US relations".
Moussaoui's credibility was also called into question in 2006 when Osama bin Laden released an audio recording saying that Moussaoui had "no connection" to the September 11 attacks.
However lawyers for September 11 victims who have been trying to sue Saudi Arabia since 2002 said they believed the Moussaoui testimony should prevent Saudi Arabian government attempts to have the case against the kingdom dismissed.
"Moussaoui's testimony is important because he's the al-Qaeda member who can corroborate what we've said about Saudi involvement from the inside," James Kreindler, a senior lawyer for the families, told The Telegraph. "He ran the guesthouse in Afghanistan where the Saudi princes would come and pay homage to bin Laden."
Source:
http://www.telegraph.co.uk/news/worldnews/middleeast/saudiarabia/11390705/Saudi-princes-supported-al-Qaeda-before-911-claims-twentieth-hijacker.html