The Truth About How King Abdullah Treated Women, Including His Own Daughters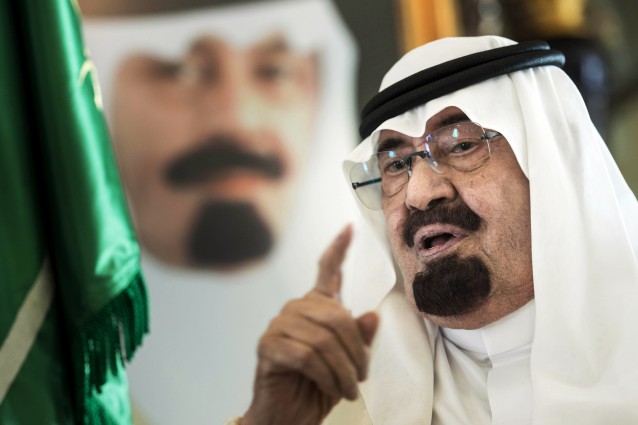 King Abdullah, 90, who died early Friday morning, is being hailed as a reformer, despite condoning human rights abuses and forwarding only very measured efforts to promote democracy in his oil-rich nation.
One of the most scrutinized aspects of the Saudi Arabia's rights' record is its so-called "male guardianship system," women are not allowed to travel, obtain a passport, marry, or continue their education without the approval of a male relative.
The King's own daughters are hardly an exception to the harsh rule. Four of his daughters claim that the are being forcibly held in a dilapidated palace with little in the way of food and water. "Our father said that we had no way out," Sahar Al Saud, 42, wrote in an email to the British broadcast network Channel 4, "And that after his death our brothers will continue detaining us."
"We are just an example of so many families, of what so many women, go through. Just a tiny, tiny example," the princess who once enjoyed international skiing and shopping trips said.
Adam Coogle, a Saudi Arabia researcher for Human Rights Watch told ThinkProgress in an email, "It seems clear that the princesses' freedom of movement has been restricted, but we don't have a lot of details beyond that."
While Sahar and her sisters claim they are being held because of their independent spirits and critical view towards some of their father's social policies, their detention might have something to do with their support for Sheikh Nimr al-Nimr, a Shia cleric imprisoned in the powerful epicenter of Sunni Islam.
And, while it's not a topic they have raised in their interviews with Western journalists, Sahar appeared in a video last April in which she called for opposition to her fathers' regime and praised Nimr al-Nimr — a bold and possibly dangerous move.
Despite his alleged repression of religious minorities, in a statement, Vice President said he "appreciated" King Abdullah's "efforts to move his country forward," and Sen. John McCain (R-AZ) called him "an important voice for reform in Saudi Arabia."
President Barack Obama praised the king for having "the courage of his convictions," and for promoting security in the region, but steered clear of commenting on Saudi Arabian social policies.
"In a very discreet way, he was a strong advocate of women," Christine Lagarde the head of the International Monetary Fund said from the Davos Economic Forum in Switzerland.
Even news reports heralded King Abdullah's track record on civil rights, though the laudatory language was often followed by only vague or contradictory examples from his 9-year tenure as the head of Saudi Arabia.
CNN called him "a cautious reformer" citing "steps toward broader freedoms" without giving clear examples. The New York Times Douglas Martin and Ben Hubbard referred to the autocratic ruler as a "force of moderation," although the already tempered phrase was followed by examples in which the King failed to carry out the reforms he publicly vowed to carry out.
While he did make it possible for women to work as cashiers — a significant liberalization in the Saudi context — the Times' journalists note that he walked back on what they called "a promise made to Barbara Walters of ABC News in his first televised interview as king in October 2005" to make it legal for woman to drive there.
In the interview with Walters, however, King Abdullah never explicitly promised to shift policy to allow women to get behind the wheel. He said only, "I believe it will be possible."
Although King Abdullah overturned the sentence of a woman who was to be lashed for driving in 2011, women have continued to face arrest for getting behind the wheel. Just last month, two Saudi Arabian women were arrested and detained for driving, one of whom garnered international attention for live-tweeting her attempt to cross the border from the United Arab Emirates where she is a licensed driver to her native Saudi Arabia.
"King Abdullah came to power promising reforms, but his agenda fell far short of achieving lasting institutional gains on basic rights for Saudi citizens," Joe Stork a the Deputy Director of Human Rights' Watch Middle East program said in a statement. "It is not enough for women to sit on the Shura Council if they can't even drive themselves to work."
In 2011, amid pressure from the revolutionary fervor sweeping Middle Eastern states, King Abdullah announced that women would be allowed to run and vote in future municipal elections. The move was blocked "because of the kingdom's social customs."
It's not only Saudi Arabian women who face heavy-handed sentences for defying the country's strict laws around social order.
Less than 10 percent of Saudis are able to vote.
According to a report by the human rights organization Amnesty International, more than 2,000 people were executed in Saudi Arabia between 1985 and 2013. The organization claims that many of those who have been tortured or killed were advocates for social and political reform in the country who were charged with vague offenses like "disobeying the ruler."
On Friday, Saudi authorities again postponed the flogging of the progressive blogger Raif Badawi. Although the British foreign secretary raised concerns about brutal sentence awaiting the blogger with the Saudi ambassador to Britain prime minister was among those praising King Abdullah's commitment to his people.
"He will be remembered for his long years of service to the kingdom, for his commitment to peace and for strengthening understanding between faiths," David Cameron said.
Source:
http://thinkprogress.org/world/2015/01/23/3615052/saudi-arabia-king/
Comments
comments