Ashura of Muharram and Desi Liberals – Ale Natiq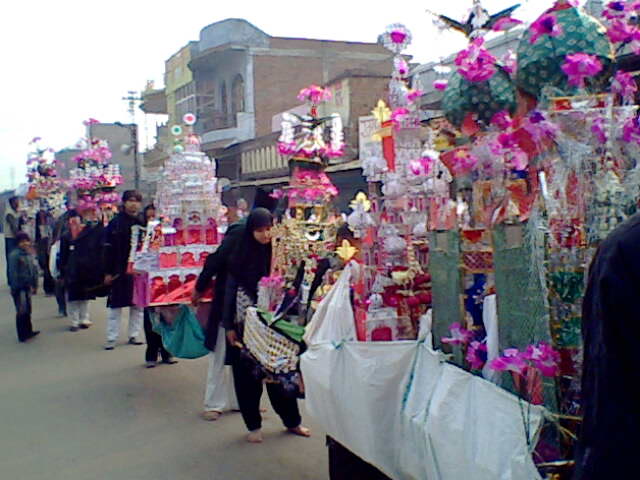 Throughout the year desi liberals, socialist and secular countrymen would yearn for cultural activity, interfaith harmony, inclusive and pluralist traditions/rituals; and activities which defy fear and terrorism. Guess what? Azadari and Ashura processions in specific give you all of that. You have Hindus, Christians, Shias, Sunnis, Sikh and others coming together for a tradition which has no parallel. You see rich cultural activity in a set of rituals which are totally inclusive; which have passion plays, color, vigor, beautiful imagery and deep symbolism, legacy of art and literature. It inspires and welcomes everyone without discrimination. Religion, caste, color, creed, gender, nationality, language – none is a barrier. You have millions of people across the country coming together in a march of freedom defying fear like nothing else. Yet you loathe these rituals and mock them? This Muharram, I ask you to put aside your prejudices and go visit Ashura procession at Sehwan Sharif sometime; that is Pakistan at its best. That is what Pakistan could be. Inspiring, inclusive, courageous, culturally rich and very local.
Call them mad, call them whatever you want but deep down you know these Shia, Sunni Sufi, Hindu, Sikh and Christian mourners of Imam Hussain are the bravest people you would know. Who would defy threats and intimidation year after year knowing they can become victim to terrorism but still come out in millions in this march of freedom? Salute to the courageous, brave, steadfast and determined lovers of Hussain – Shias, Sunnis, Christians, Hindus, Sikh and everyone else as part of Azadari processions. You, on the footsteps of the father of freedom Hussain ibn Ali, are the biggest threat to terrorists.
Comments
comments