In Pictures: Ashura observed amid tight security in Kabul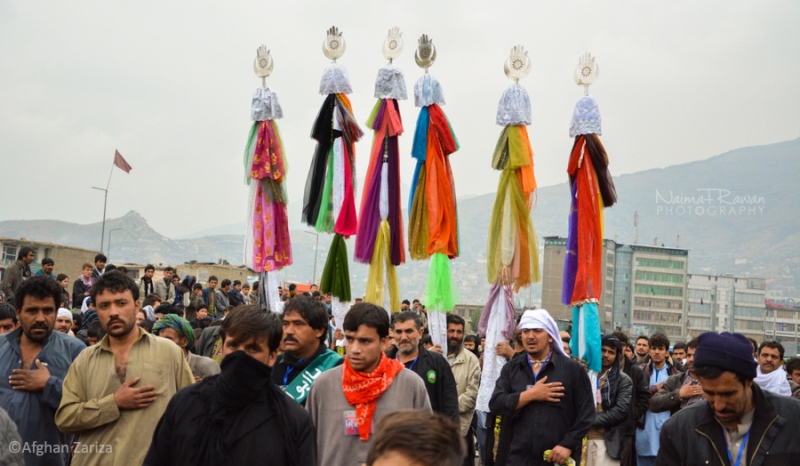 Thousands of people, cutting across sects and tribes, took part in the massive mourning processions on Muharram 10 (Ashura) in Kabul and demonstrated their desire and willingness to co-exist peacefully and foil the sinister plots of mischief-mongers who are hell-bent to divide people among sects and tribes.
On a rainy day, tears were indistinguishable from rain droplets descending from heaven. Sadness and melancholy had filled the air as mourners remembered the martyrs of Karbala.
Reciting soul-stirring elegies and hymns, mourners wore black dresses and black badges, and beat their chests in a spirit of devotion.
They carried replicas of Husain's mausoleum in Karbala, and parade the streets of Kabul. Big banners and hoardings are put up on every street, alley and pathway.
Almost 1500 years ago, in the desert plains of Karbala in Iraq, Imam Husain, the grandson of Holy Prophet (pbuh) was martyred along with his family and companions.
Every year, people commemorate the occasion with street processions and prayer meetings. Biggest processions are taken out in Tehran, Karbala, London, Sydney, New York, Moscow, Toronto, Kabul, Karachi, Dhaka, Lucknow.
In Kabul, hundreds of mourners assembled at Muradkhani road in main city on Ashura and recited soul-stirring elegies in the memory of the martyrs of Karbala.
The biggest ceremonies were held at Ziyarat e Karti Sakhi in Karte Sakhi, Ziyarat e Abul Fazl in Muradkhani area of main city, Imambargah in Taimani, Imambargah in Afshar etc.
People in Kabul, and many other provinces, yet again reaffirmed their pledge to build Afghanistan where there is no discrimination or prejudice on the basis of religion, sect, tribe or region.
As a cleric said in his address to mourners, the appeal of Muharram cuts across the religious and ideological divide, because Imam Husain's uprising in Karbala was not a religious tussle, a political war or a petty struggle for power.
Imam Husain's uprising, the cleric said, was a confrontation between right and might, between the forces of truth and falsehood.
These annual commemorations, in many parts of the world, are used as a potent psychological weapon and mechanism to mobilize people against forces of evil, injustice and repression.
Security had been beefed up across the city to prevent any untoward incident. Many entry points to the city were sealed to prevent the repeat of 2012, when 64 were killed in an explosion on Muharram 10.

There could not have been a better exhibition of national unity and harmony than what we saw on Muharram 10 (Ashura) in Kabul this year. –
Source:
Comments
comments