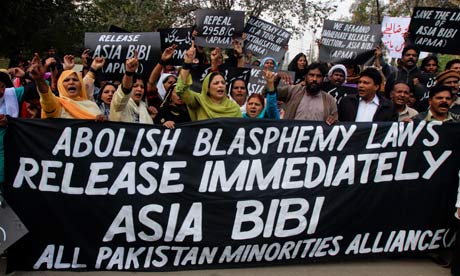 ISLAMABAD: The upholding of death sentence awarded to a Christian woman Aasia Bibi on blasphemy charges way back in 2009 has brought the blasphemy laws back to the light again.
General Ziaul Haq was the architect of Section 295-C of the Pakistan Penal Code (PPC), which was added in 1986, mandating capital punishment for "use of derogatory remarks in respect of the Holy Prophet". Even the law minister at the time did not support the bill when it was introduced in the National Assembly of Pakistan on the ground that the Quran did not fix a penalty for this offence.
The law, which technically serves to protect all religions from blasphemy, is mostly invoked only by the majority against the minority. The growing consensus on a review of the controversial laws had prompted some members of the Council of Islamic Ideology (CII) to recommend last year death penalty to those also who make false accusations of blasphemy. But the proposal was killed during the CII meeting on September 19, 2013.
Aasia, a 49-year-old mother of five, insists that she was falsely accused of committing blasphemy after she refused to convert to Islam. Aasia's sentence had provoked an international outcry, including pleas for her release by the Pope. However, Aasia Bibi's case was thrown into cold storage after the then Punjab Governor Salmaan Taseer was assassinated by a policeman [Mumtaz Qadri] in January 2011 in the federal capital for seeking clemency for the condemned woman. Taseer was declared a blasphemer by the clergy after he met with Aasia in jail and announced at a press conference that he would take her clemency appeal to President Zardari and personally request him to use his discretionary powers to grant her the presidential pardon.
After his assassination, over 500 clerics voiced support for the assassin and his act and urged a general boycott of Taseer's funeral. His assassin, Mumtaz Qadri, was sentenced to death by an Anti Terrorist Court in Islamabad on October 1, 2011. But quite strangely, district and sessions judge Pervez Ali Shah, who had handed down death sentence to Qadri, had to leave Pakistan along with his family after reports that extremist elements had fixed head money for him.
Like in many other blasphemy cases, the complainant in Aasia's case was also a cleric — Qari Mohammad Salam — who was not present at the place of occurrence of the alleged crime. He was informed about the incident by two women Muslim co-workers of Aasia that the Christian woman had uttered blasphemous remarks five days ago during a clash.
Ever since the law was enacted, there are instances to prove that it has often been misused to settle personal scores. To tell the truth, of the 1,000 plus minority citizens of Pakistan already charged under the blasphemy laws since 1986, none has been executed, with the sentence most often being overturned on appeal. However, the horrible truth is that 32 of those charged with blasphemy have already been killed by religious fanatics.
Although, Salmaan Taseer had forwarded Aasia's clemency appeal to the presidency shortly before his murder, no action could be taken by Presdient Asif Ali Zardari as a restraining order had been issued by the former chief justice of Lahore High Court, Justice Khawaja Mohammad Sharif, restraining the presidency on November 29, 2010 from pardoning her before the LHC ruled on her appeal. Khawaja Sharif retired a few days after issuing these restraining orders.
It must be recalled that two months after Taseer's assassination, the-then federal minister for minorities affairs Shahbaz Bhatti was also shot dead in Islamabad on March 2, 2011. The responsibility for the assassination was placed on the Punjabi Taliban because of a pamphlet found at the place where he was killed. The leaflet claimed that Bhatti had been killed because of his opposition to the blasphemy law. Bhatti's killers have already been arrested but they have not yet been sentenced.
Aasia Bibi is being held in solitary confinement in an 8-by-10-foot cell without windows for the last five years. While the jail authorities say they want her to be treated like any other prisoner, Aasia had to be kept away from other inmates as some other prisoners accused of blasphemy had been killed while in prison. According to her family circles, Aasia intends to lodge a final appeal with the Supreme Court within 30 days.
Source:
http://www.thenews.com.pk/Todays-News-13-33516-Blasphemy-laws-in-focus-again