UK police arrest 4 Wahabi/Deobandi men suspected of terror plot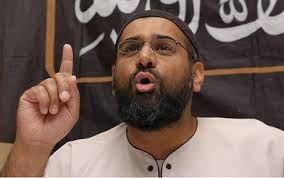 London (CNN) — Four men were arrested Tuesday in London on suspicion of planning an act of terrorism, one that the city's police commissioner described as "quite a serious case."
Armed police officers assisted in the arrests of the men — two of whom are 20 years old, while the others are 21 — according to London's Metropolitan Police. It is rare for police in Britain to execute warrants accompanied by armed officers, unless the threat is deemed serious.
A UK security source said Tuesday that authorities may have foiled a terror plot aimed at Britain in its early stages. Islamic terrorism was "the clear reason" for the plot, according to the source.
Scotland Yard has announced that the four are being held on suspicion related to the "commission, preparation or instigation of act of terrorism." Authorities have not detailed exactly where or when such terrorist attacks might have occurred or what or who they might have involved.
The arrests come nearly two weeks after police arrested at least 10 other men in the United Kingdom on suspicion of terror offenses, including supporting a banned organization and encouraging terrorism.
Metropolitan Police Commissioner Bernard Hogan-Howe, in an interview with BBC local radio, said a lot of recent arrests are "linked back to Syria and Iraq."
That is where the Islamist extremist group ISIS, which calls itself the Islamic State, has waged a bloody and largely successful campaign to take over vast swaths of land — while terrorizing and, in many cases, killing those civilians who don't subscribe to its extreme brand of Islam in the process.
Two British aid workers are believed to have been beheaded by ISIS, in addition to a pair of Americans. Britain is among the nations that have gone after the Islamist extremist group militarily in Iraq, while the United States and some of its allies are targeting the group inside Syria.
"These are arrests that, some way or other, have that link," Hogan-Howe said of the Syrian and Iraq tie.
10 arrests in late September
As of Tuesday night, authorities hadn't released the names of the four men arrested. Nor is it known what their future will hold.
"They have all been taken to police stations in central London and remain in custody," Metropolitan Police said.
Even after the arrests, officers searched other homes and vehicles in west and central London as part of the investigation, authorities said.
Police didn't say whether Tuesday's moves were connected to the September 25 and September 26 arrests of 10 other men. Those men, ages 22 to 51, were detained in London and elsewhere in the country on suspicion of being members of a banned organization, supporting a banned organization and encouraging terrorism.
An 11th man was arrested September 26 on suspicion of assisting an offender.
Police did not give the identities of those arrested in September nor name the banned organization concerned. But the UK's Press Association news agency cited sources as saying radical British cleric Anjem Choudary was among those arrested.
Choudary, who was a co-founder of the banned UK Islamist group Al Muhajiroun, told CNN in August that the world had been split into two camps.
There's a "camp which believes that sovereignty and supremacy belongs to God. They are the Islamic State, at the head of which is Abu Bakr al-Baghdadi," Choudary said. "In the other camp you have those people who believe sovereignty and supremacy belongs to man. At the head of that camp is Barack Obama."
"I believe this Islamic State will spread, rapidly, and I believe it will be in Europe and even America within decades," Choudary said.
The self-proclaimed Islamic State, commonly referred to as ISIS or ISIL, is a Sunni Muslim extremist group that has captured parts of Syria and Iraq for what it says is its new Islamic caliphate.
The British military recently joined a U.S.-led bombing campaign against ISIS in Iraq. The United States and some Middle Eastern nations also are conducting airstrikes against ISIS in Syria.
UK authorities believe at least 500 British citizens have gone to Iraq and Syria, many of them to fight with ISIS and other Islamist groups — and that most will try to return, bringing their extremist views with them.
The UK Home Office raised its terror threat level in August from "substantial" to "severe." Days later, the government announced new measures to combat the threat from Islamist extremism, including the banning of Britons' coming home once they have joined with jihadists abroad.
Source:
http://edition.cnn.com/2014/10/07/world/europe/uk-terror-arrests/index.html?hpt=hp_t1
Was Arrested teen on his way to join ISIS?
(CNN) — Before authorities arrested him at O'Hare International Airport and accused him of attempting to provide aid to ISIS, a teen from the Chicago suburbs left behind a letter for his parents.
Mohammed Hamzah Khan, 19, wrote that he was leaving the United States and on the way to join ISIS, according to a criminal complaint. He invited his family to join him in the three-page letter, which authorities found in the bedroom he shared with a sibling in Bolingbrook, Illinois. But he warned them not to tell anyone about his travel plans, the complaint said.
"First and foremost, please make sure not to to tell the authorities," he wrote, according to the complaint. "For if this were to happen it will jeopardize not only the safety of us but our family as well."
A round-trip ticket was purchased for Khan from Chicago to Istanbul, authorities said.
Once he crossed security at the airport Saturday, federal agents stopped him and executed a search warrant at his home, where documents expressing support for ISIS and jihadists were recovered, the U.S. attorney's office said. Among them, according to the complaint: drawings of the black ISIS flag and a notebook including a sketch of an ISIS fighter accompanied by words in Arabic: "Come to Jihad."
Now he's charged with one count of attempting to provide material support to a foreign terrorist organization.
The teen was taken into custody without incident and made his first court appearance Monday CNN affiliates reported.
The charge he faces carries a maximum penalty of 15 years in prison and a $250,000 fine.
His parents declined to comment after Monday's hearing, The Chicago Tribune reported.
"As Khan was being led from the courtroom by deputy marshals, his father put his arm around Khan's weeping mother and sought to calm her," the newspaper said.
Letter: Teen felt obligated to 'migrate'
Details about who purchased the airplane ticket for Khan and whom he was planning to meet in Turkey were not included in the criminal complaint.
But the court document does state that the FBI has withheld many details for now, including in the document only enough to persuade a judge to criminally charge Khan.
The search at Khan's Bolingbrook home, where he lives with his parents, turned up documents allegedly written by Khan that stated his intentions.
In the letter, Khan wrote that there is an obligation to "migrate" to ISIS-controlled territory.
ISIS, an extremist Islamist group, has been fighting to take over a swath of territory in Iraq and Syria where it wants to establish a caliphate or Islamic state.
"We are all witness that the Western societies are getting more immoral day by day," Khan is wrote in the letter, according to the complaint. "I do not want my kids being exposed to filth like this."
Finally, he asks his family to join him in the "Islamic State."
During questioning at the airport, Khan waived his Miranda rights and told FBI agents that a person he met online (not identified by name in the court document) had given him the phone number of a person to call once he arrived in Istanbul.
That person, Khan told agents, was to take him to ISIS territory.
According to the complaint, Khan told authorities he was planning on being in some type of public service — like a police force — or providing humanitarian work or a combat role.
Turkey, the complaint notes, is a common transit point for foreign fighters from Western countries who travel to join ISIS.
Other alleged ISIS recruits in America
This isn't the first time authorities have accused Americans of supporting ISIS.
"ISIS is smart, and they're using social media to recruit as many Americans or other allies to come to Syria to be radicalized and trained to fight," Rep. C.A. "Dutch" Ruppersberger, D-Maryland, said Monday.
"There are other Americans who are being recruited," the congressman told CNN's "Erin Burnett OutFront."
"It doesn't mean they're going to Syria, but some do."
On Sunday, FBI Director James Comey told CBS' "60 Minutes" that his agency is tracking a dozen Americans that have joined terrorist groups inside Syria.
"These homegrown violent extremists are troubled souls who are seeking meaning in some misguided way, and so they come across the propaganda, and they become radicalized on their own, sort of independent study, and they're also able to equip themselves with training, again, through the Internet," Comey told CBS. "And then engage in jihad after emerging from their basement."
Last month federal authorities detailed their case against the owner of a New York food store who they accused of funding ISIS and plotting to gun down U.S. troops who had served in Iraq.
A law enforcement official told CNN that former Boston resident and U.S. citizen Ahmad Abousamra could be a key player in the ISIS social media machine that's become renowned in recent weeks for spewing brutal propaganda online — messages meant both to terrify and recruit Westerners.
And CNN obtained tapes of American terrorists recruiting friends in the United States to join terror groups like ISIS.
ISIS has successfully recruited large numbers of foreign fighters from across the globe, including from the United States and Western Europe.
A CIA source told CNN last month that more than 15,000 foreign fighters, including 2,000 Westerners, had gone to the civil war in Syria. It was not immediately clear how many had joined ISIS and how many were with other groups opposed to the Syrian government.
The foreign fighters come from more than 80 countries, the CIA source said.
A top State Department official insisted Monday that American efforts to combat ISIS' powerful online message are working, successfully keeping disaffected youth from joining the extremist group.
"We have evidence that there are young people who are not joining because we have somehow interceded," Under Secretary of State for Public Diplomacy and Public Affairs Richard Stengel told CNN's Elise Labott on Monday.
"They're reading the messages, they're hearing the messages — not just from us but from the hundreds of Islamic clerics who have said that this is a perversion of Islam, from the hundreds of Islamic scholars who have said the same thing."
"It's a very small cohort," Stengel said of these so-called "foreign fighter" cases originating from the United States.
Source:
http://edition.cnn.com/2014/10/06/us/teen-isis-support-arrest/index.html?hpt=hp_t1
Comments
comments