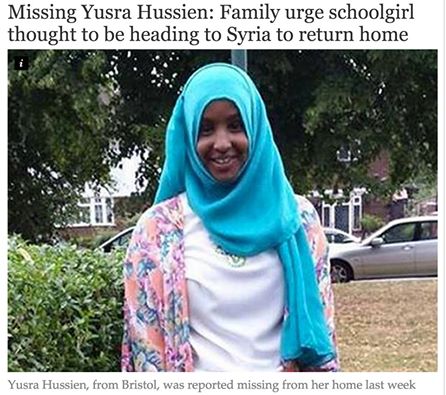 The family of a missing 15-year-old Deobandi/Wahabi girl who is believed to be heading to Syria after becoming radicalised have made an appeal for her to return home.
Yusra Hussien, from Easton, Bristol, was reported missing last week and is believed to have travelled to Turkey with a 17-year-old girl from London.
Police have now released an image of the 15-year-old schoolgirl, as her parents Mohammed and Safiya said they were becoming increasingly concerned for her safety and welfare.
"We are making this heart-breaking appeal for our daughter, Yusra Hussien, who has been missing since Wednesday September 24," they told reporters at a police press conference in Bristol.
"As every day passes we become more and more concerned about her safety and welfare."
Mr and Mrs Hussien said: "Yusra, our daughter, is a very young bright bubbly girl who is loved by not only her family but her peers, teachers and her community.
"She's a typical teenager – she loves to play table tennis and to ride her bicycle and she used to run with her brother, who's the next Usain Bolt.
"Our family is very heartbroken and we are struggling to come to terms with this situation.
"The pain that we as parents feel, at not knowing her safety, is very distressing, and is something we believe every parent can relate to.
Safiya Hussien, the mother of missing 15-year-old schoolgirl Yusra Hussien, speaks at a press conference in Bristol and urges her to come home (PA)
"There have been many assumptions and speculations claiming that Yusra is travelling to Syria, that she may be an extremist, or that she is planning to become a jihadist bride, all of which have not, as yet, been proved with any concrete evidence.
"We would like to make a request to the media to not state anything which is both incorrect and not backed by evidence."
Mr and Mrs Hussien added: "Yusra we are missing you, if you are watching this please contact us, you are not in trouble and we are not angry with you. We just want you back home with us."
In an appeal made directly to her daughter, Mrs Hussien said: "From your mother – please dear Yusra, I love and I miss you, my heart is torn, and I want you home as soon as possible.
"Your brothers and baby sister are missing you and the house has not been the same since you left."
Mr Hussien said: "From your father – Yusra, I'm not angry, I just want you to be safe. Please come back.
"We are working with the police to find you and we are praying to god that we will find you safe and bring you back home.
"We would just like to thank the Somali community and all the other communities that have shown us their support and love. We also want to give our gratitude to the police for their ongoing support.
"Anyone who can assist the police with any inquiries, could you please do so immediately."
Yusra, who is of Somali descent, is thought to have met up with a 17-year-old girl from London and headed to Turkey, where they are believed to be trying to cross the border into the neighbouring war-torn state.
It is unclear how the two teenagers met although they both left home last week amid fears they had been radicalised.
Officers are investigating whether the two girls travelled together from Heathrow Airport to Istanbul, Turkey, on their way to Syria.
Mrs Hussien was supported by Yusra's aunts, Sucdi Ali and Ikram Mohamed, who also read parts of a prepared statement to media.
The family said they did not wish to comment on extremism or speculation the teenager had become radicalised online.
Speaking at the conference, Chief Superintendent Jon Reilly, Bristol's district commander, said the force would not be commenting on the investigation.
"The investigation's priority remains finding Yusra and bringing her back to the UK as soon as we can," he said.
Source:
http://www.independent.co.uk/news/uk/home-news/missing-yusra-hussien-family-urge-schoolgirl-15-to-return-home-9767377.html