Meet the Syrian Islamist organization controlling Senator McCain's agenda – Daniel Greenfield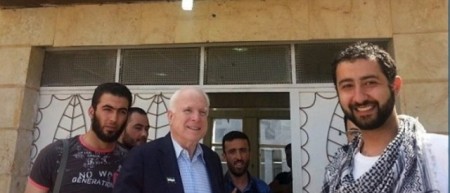 A few days ago, the Wall Street Journal ran a high profile article from one Elizabeth O'Bagy arguing that the majority of the Syrian rebels were actually moderates.
Senator McCain mentioned Elizabeth O'Bagy's op-ed during the Senate hearings, when he wasn't playing poker, and tweeted it. That should come as no surprise, considering that O'Bagy is credited with arranging McCain's infamous photo op with the Syrian rebel leadership.
The Wall Street Journal lists O'Bagy's role as the Institute for the Study of War. It leaves out the fact that she is the political director for the Syrian Emergency Task Force making her an activist.
O'Bagy doesn't matter much. She's a friendly Western face plastered over a foreign organization. Of more interest is Mouaz Moustafa, the smiling man in the Keffiyah on the far right of McCain in this photo.
Mouaz Moustafa is a Palestinian Arab and the Executive Director of the Syrian Emergency Task Force which arranged for McCain's visit.
Senator McCain called Moustafa a "patriot", but it's not clear which country he's a patriot of, since it's not Mouaz Moustafa's first time around on the regime change bus tour.
Before the Syrian Emergency Task Force, Moustafa was the Executive Director of the Libyan Council of North America, which like the SETF existed to help push regime change. Before that, he mentions working with "rebels" in Egypt. On his Twitter feed, he denounces the overthrow of Morsi making it rather clear which side he was on.
His Twitter account frequently features anti-Israel material, including calls for a Palestinian state with its capital in Jerusalem. On his YouTube account, he "liked" a video featuring Hamas leader Ismail Haniyeh, "crying while praying".
He also Favorited an anti-Israel video from a channel titled "JewsExposed"
Predating his international period, Mouaz Moustafa did stints as a Field Organizer for the Democratic National Committee and a senate staffer. On Instagram, he calls himself a Freelance Revolutionary.
Mouaz Moustafa, patriot of four countries, none of which is the United States, appears to be holding McCain's hand on Syria through the Syrian Emergency Task Force. And the Syrian Emergency Task Force appears to be funded by "prominent" Syrians in the United States. It's not technically a foreign organization. Technically.
One member of the SETF's Board of Trustees/Board of Directors, Dr. Jihad Qaddour, was also a trustee of the Muslim American Society, which is a front for the Muslim Brotherhood.
Another, Bassam Estwani, appears to have been the Imam of the Dar Al-Hijrah Islamic Center, also known as Al-Qaeda leader Anwar Al-Awlaki's former mosque. The mosque was considered a front for Hamas and other "Islamic extremists" by the Treasury Department.
A third, Zaher Sahloul, appears to be the Chairman of the Council of Islamic Organizations of Chicago, an organization with terrorist links which is involved in organizing a boycott of Israel.
And that's just from a casual glance at a disturbingly incomplete list of names and functions.
Mouaz Moustafa's message is that United States must arm the Syrian terrorists without asking questions, and claims that most of the Al-Nusra Front's members are not really Al Qaeda or enemies of America.
"Let's look at the Jabhat al-Nusra. Didn't exist, then existed. Came up to numbers [of] about 5,000 or 6,000. Then we put them on a terrorist list — increase their profile and people stood with them. I think the way they were thinking is, 'you don't support us, you don't give us arms, you don't give us anything, but then you tell us whose good and whose bad within us?' So first support, then dictate."
That's not just empty talk. Mouaz Moustafa claims to have White House access and control over where the weapons go.
While advocating for greater intervention in Syria, Moustafa says he has gone to Tampa to meet with Central Command, to Capitol Hill to meet with members of Congress and to the White House "every couple of months" to meet with staff of the National Security Council.

And if you are wondering who is sorting through the Syrian morass to find groups that are suitable for American aid — in other words, not members of al-Qaida — Moustafa says it's a task his group performs as well.

"What we try to do is make sure is that the aid is going from the State Department is going to the right people," he said.
And these are the politicians he claims are most helpful to his cause
Among the legislators who have been most helpful to his cause, he said, are McCain, New York Democratic Rep. Eliot Engel, Democratic Sens. Carl Levin of Michigan and Bob Menendez of New Jersey, as well as Republican Florida Sen. Marco Rubio.
It's strange that no one has called attention to the fact that a group headed by people with such extreme ties and beliefs is dominating American foreign policy on Syria and controlling the itinerary of senior senators like McCain.
Free Palestine long live independent #Palestine with #jerusalem as the capitol

— Mouaz Moustafa (@SoccerMouaz) September 23, 2011
Source:
http://www.frontpagemag.com/2013/dgreenfield/meet-the-syrian-islamist-organization-controlling-senator-mccains-agenda/
Comments
comments