Pakistan only 36 polio cases short of global humiliation – Shahina Maqbool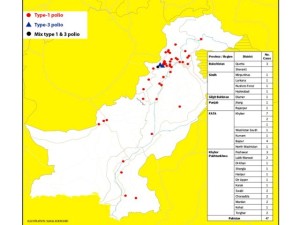 Islamabad: With another six children crippled by polio on Thursday, Pakistan is now only 36 cases short of being the world's only recipient of the 'Global Humiliation and Reprimand Award.' It took no more than a year of total complacency, several months of absolute tolerance to poor performance, and an ongoing deficit of top-level political commitment for the country to qualify for a distinction that will find no parallel in world history.
The government of Pakistan would have been deprived of the singular honour, had it prevented 164 Pakistani children from being paralysed for life in the year 2014 alone. Lack of political commitment is also playing a vital role in enabling the government to remain at the centre of global limelight. Not a single country fighting polio can even inch closer to beating Pakistan's polio scorecard. From 51 cases in the corresponding period in 2013, the case count has risen this year to 164 so far. Pakistan closed 2013 with 93 cases. This year, it is all set to breaking its own 14-year-old record of 199 cases. Some achievement indeed!
The government's journey to fame has not been an easy one. It had to accord undivided attention to every other issue except polio. In fact, health as a whole had to be placed on the backburner. The government made it a point not to convene a single high-powered meeting chaired by the prime minister to take stock of the polio situation. Had polio actually been handled as an international emergency, as declared by the World Health Organisation on May 5, 2014, the award could conveniently have fallen into another country's lap. Efforts spread over more than a year were made to ensure that approval for the PC-1 of the Islamic Development Bank (IDB) loan for polio eradication lingered on, and that no programme activities including immunisation campaigns were held beyond July 2014.
The government's smart conduct on how to proceed with the loan came at an ideal time. The effort paid off very well as there was no money to purchase vaccines and to conduct campaigns; these man-made obstacles provided an ideal scenario for maximum polio cases to surface.
The rise in polio cases would have been impossible, had it not been for endless bickering between the Planning Commission and the Ministry of Health. While the Planning Commission was hell bent on taking the PC-1 document to the Council of Common Interests (CCI), the Ministry contended that since provinces were already on board, there was no justification for seeking CCI's approval. This stalemate, which continued for several months, ultimately led to the PC-1 being approved by ECNEC last week, but only after Pakistan is well on its way to be being crowned with over 200 cases.
The government would have missed the coveted award, had it not turned a blind eye to the leadership role that it is was required to play in the end-polio 2014 game. Ironically, rather than the government assuming leadership of the programme and partner agencies restricting their role to provision of technical assistance, polio partners have been spotted running after the
government with reminders like "these children are yours; this problem is yours; please approve the PC-1 so that your children do not end up being crippled for life!" Such reversal of roles proved to be one of the key ingredients of success.
Sheer ignorance of the recommendations of the International Monitoring Board (IMB) for Global Polio Eradication Initiative, which is scheduled to meet on September 30 once again, has also enabled the government to embrace unmatched success in achieving a rise in polio cases. Back in June 2014, the IMB had recommended the establishment of an Emergency Operations Centre in Pakistan as a strong national body with the power, resources and capacity to drive transformative action and to turn the desperate situation around.
Ridding Pakistan of polio, the IMB had said, demands nothing less than the hands-on leadership of the Prime Minister and President. Had it not been for the mysterious absence of the President from the scene, and the prime minister's obsession with every issue under the sun except polio, Pakistan would have failed to achieve its target for the spread of polio. The EOC was to be fully operational by July 1, 2014. It is not so, to this day. Thank God, polio has not been run as a true emergency as recommended by the IMB. Had it been so, the government would have miserably lagged behind in the same manner as it has failed to meet the MDGs.
Having put in such massive efforts, Pakistan is now firmly on track to missing the end-2014 deadline to halt poliovirus transmission, and to being recognized as the last polio endemic country of the world with maximum number of polio cases. The country, which contributes 90 per cent of the total polio cases worldwide, is now gearing up to celebrate its success. Before we know it, the number of polio cases in Pakistan will have crossed 200. The countdown has already begun. And before long, the government will have become the only recipient of the 'Global Humiliation and Reprimand Award.' Grapevine has it that its effort to manoeuvre an extension in travel restrictions will also bear fruit!
On a non-satirical note, an international polio expert based in Geneva, when asked to comment on Pakistan's predicament said, "I am totally dismayed at the team that is running the polio programme, supported by a horrendous price tag! It is totally unfair for the situation to turn so ugly." He termed the numbers "dizzying," and was of the view that Pakistan will be lucky if it curtails the final count to less than 200 cases.
Another health specialist said, "It is heartening to note that the government has approved the PC-1 for polio campaigns, albeit this is a loan and carries the usual issues related to performance. Since the PC-1 calls for setting up of EOCs, the emphasis here needs to be on what the EOCs are set to achieve, rather than on hiring additional human resource or equipping the centre with state-of-the-art extras such as fancy furniture, computers, and so on. If we fail to meet the goal, which we sadly will, it is going to be even harder to raise these funds and to convince the international community," she maintained.
Meanwhile, of the six polio cases confirmed on Thursday, two are from Khyber Agency, two from Waziristan Agency, and two from Karachi. If the government clings to its current recipe of success, which is "Polio eradication will not come through grassroots work but through frills at the top," nobody can steal the limelight from it.
Meanwhile, Minister of State for National Health Services Saira Afzal Tarar while chairing a meeting convened by her Thursday to review the current upsurge of polio cases said that although laboratory tracing indicates that the virus in almost all polio cases reported in Pakistan so far has primarily come from areas having barriers between vaccinators and children, yet the quickly rising number of cases to 164 till date, and the geographical expansion to previously polio-free areas, provide direct evidence of poor quality campaigns conducted in relevant provinces and areas.
Pakistan, Saira said, is facing a crisis-like situation particularly due to the outbreak situation in Fata and KP. So far, 118 (72%) cases are from FATA, 27 (16%) from Khyber Pakhtunkhwa, and 14 (8%) from Sindh. However, 3 cases from Balochistan and 2 from Punjab have also been reported.
The meeting was also attended by Ayesha Reza Farooq, Prime Minister's focal person for polio eradication, Dr. Assad Hafeez, director general NHSR&C, and Dr. Rana Safdar, programme manager of the Expanded Programme on Immunization. Country heads and senior officials of WHO, Unicef, USAID, Bill Melinda & Gates Foundation and Rotary International were also present.
"We need to do things differently by bringing in innovations and finding locally suited solutions in an attempt to each and every child," stated Ayesha. The WHO polio team lead Dr. Elias Durrey apprised the participants of strategies that are being pursued to target high-risk populations. He also emphasized the need to maintain campaign momentum even in low-risk areas in view of the positive environmental samples being reported.
Sharing the 'One Team under One Roof' concept of the Emergency Operation Centre (EOC), Dr. Safdar highlighted the need to have a mechanism for data collection, analysis, and real-time decision-making. He proposed that EOC should have dedicated units for technical coordination, communication & advocacy, high-risk populations coupled with equipped Rapid Response Teams. The Bill Melinda & Gates Foundation has already committed assistance to provide required logistics for establishing such a set-up in the EPI premises. The minister recommended the need to have a dedicated desk for Fata in the EOC.
Considering the fact that implementation of immunisation activities encompassing polio campaigns is primarily a provincial responsibility, all stakeholders and partners at federal level need to speak a common language so as to provide them clear and uniform message to the implementers; leaving no ambiguity in their minds, she concluded. The representatives of all organizations assured full assistance for operationalisation of the EOC.
Besides presenting a roadmap for establishment of EOC, the meeting also decided to develop a comprehensive plan for the upcoming low transmission season.
Source:
http://www.thenews.com.pk/Todays-News-2-273725-Pakistan-only-36-polio-cases-short-of-global-humiliation
Comments
comments