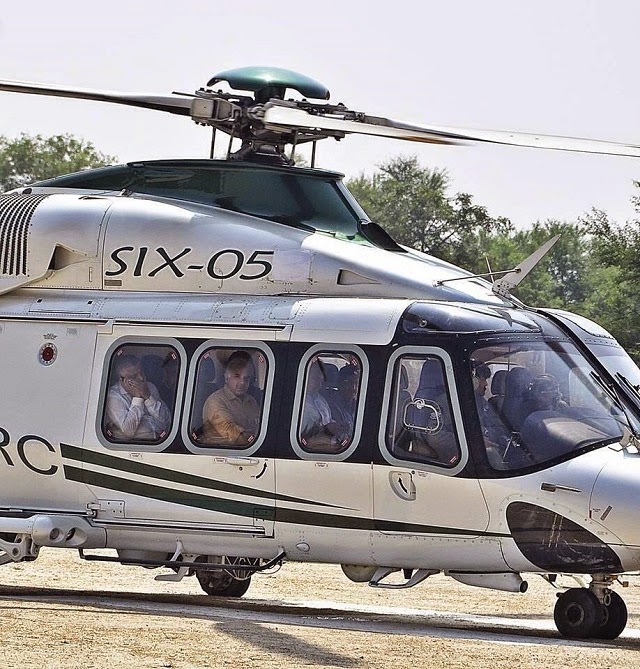 The Chief Minister of the Punjab, Mian Shahbaz Sharif, ended-up in Rabwah today because his helicopter could only land at the Rasheed Rice Mills grounds owned by an Ahmadi, right next to the Ahmadiyya Flood Relief Camp.
The Chief Minister was in the area to attend a political gathering for flood victims at a village near Dawer, about 10 Kilometer from Rabwah, it was reported.
Due to a technical problem, the helicopter could not fly out and while waiting, the Chief Minister was made aware of the significant relief camp activity underway across from his makeshift helipad.
However, as it turned out, this particular flood relief camp wasn't the right place for the Chief Minister to be seen visiting even though he waited some 40 minutes for his helicopter's take-off.
"Jamat's flood relief camp where food was being served at that time to a reasonable number of flood victim but he [CM] didn't had time for them," wrote Saleemuddin, the Ahmadiyya spokesperson in Pakistan, in his Twitter post. "People who come to our camps are not just Ahmadis and our service is for humanity — and the rest is left to your imagination and judgment."
According to Mr. Saleemuddin, more than thirty-two thousand people have been provided food, nearly twelve hundred people were rescued and about twenty-four hundred people have been provided medical aid by the Ahmadiyya Flood Relief Camp volunteers.
In the town of Rabwah, Mr Saleemuddin reported, 2 children; Saqib Shabir, age 12, and Takreem Ahmad, age 13 were drowned when they faced flood waters near Factory Area and their dead bodies were recovered by Ahmadi youth search teams after 5 hours of constant search.
Source:
http://ahmadiyyatimes.blogspot.com/2014/09/rabwah-pakistan-chief-minister-avoids.html