Harvard probed Samad Khurram for stalking a Lahore lady lawyer – by Yasmeen Ali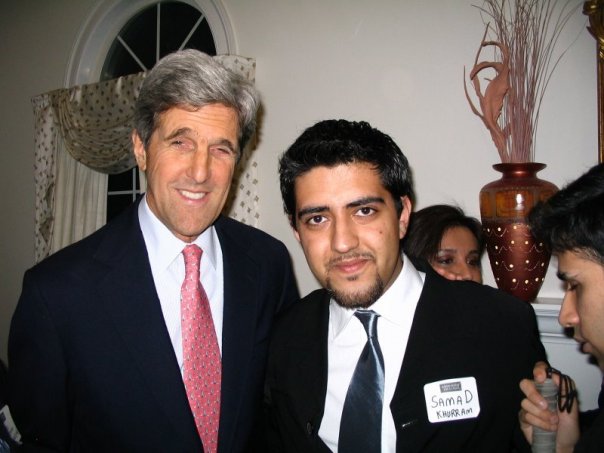 Pakistan —It is with some amusement that I followed the story on this blog about one Samad Khurram.
The wah wah coming his way because we, as Pakistanis, are somewhat short on self respect these days. The joke our country has become owing to the likes of Aitzaz Ahsan & Co., who serve vested interests in the garb of serving the nation.
Late last year, I had come in contact with Mr. Samad Khurram. His name was listed in the 'To' line in emails send to me by a friend. It was a mailing list. The subject inevitably was politics and politicians. Everyone, I believe, is entitled to his or her views. And has a right to share the same in an academic discussion.
However, unfortunately, Mr. Samad Khurram did not think so. His grouse were my articles and my opinions did not agree with his. Until this point, fair enough. Unfortunately, he decided to handle this difference in political opinion in an ungentlemanly manner. First he accused me of being a non-existent person. Then he accused me of being a man by the name of Naveed Tajammal. At least three prominent individuals on the mailing list knew me personally.
When this did not work, he accused me of 'concocting stories with Mr. Ahmed Quraishi,' a person known to be by his blog only. Further, he accused me of working for an intelligence organization. Much harm can come to me as Kidnappings are rampant and he "hoped" I may be done away with by "someone".
WHO is the someone who would kidnap and murder me? I was tempted to ask him, since this sounded like a threat to me, which would be criminally punishable in the United States, where he was residing.
He had passed on his address to one recipient of the mails, who was kind enough to communicate the same to me reading these underhand threats.
In January 2008, when this transpired, I got in touch with the Provost of Harvard University, whose scholarship Samad accepts despite snubbing the U.S. ambassador. I was informed by one Mr. Marshall, Project Coordinator of Office of Provost that Samad khurram is possibly registered as a student.
Next I heard from Mr. Jay Ellison, Assistant Dean of Harvard College. He confirmed that the offender was asked to furnish copies of his mails to me and the same was done. The mails fully support my complaint against the said person. In his mail dated February 20, 2008, Harvard assured me that action was taken against the student accordingly but he said he could not tell me exactly what action has been taken against the student since U.S. law prohibited the university from disclosing to outsiders what action taken was in this case.
That was the last I heard of Samad Khurram. Till now.
What can one say? A person takes one action in public and another in private. In my considered opinion, this was a cheap ploy to gain publicity. People who value the lives of others do not go around threatening others. Or maybe I'm mistaken.
I hear that some time ago, Samad Khurrum was also found hacking into private computers. I would suggest that his American visa be cancelled, and he be sent back to study in Pakistan. His scholarship should be given to another student who can represent Pakistan in a better light in America.
Yasmeen A. Ali is a known lawyer. Her political commentary is widely available on this Web site and at other Pakistani blogs. She is based in Lahore. She can be reached at yasmeenali62@gmail.com
Source:
https://groups.google.com/forum/m/#!topic/paknationalists/idNBsFytRso
Comments
comments