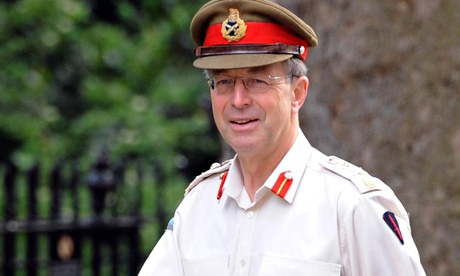 The former chief of the defence staff has urged David Cameron to consider cooperating with the Syrian regime and to seek help from the Russian and Iranian governments as part of an alliance to crush Islamic State (Isis).
Lord Richards, who stood down from the post last year, also spoke for the first time about the failure of the British prime minister to adopt his 2012 plan to contain the Syrian president, Bashar al-Assad, and extremist militants who opposed him.
His call comes as Nato meets in Wales to discuss further possible options to defeat Isis.
In an interview on BBC Radio 4's Today programme on Friday, Lord Richards was asked if the British government had to consider striking up a deal with Assad in order to defeat Isis. He said: "My judgment is that you do have to come to some accommodation with them. Russia, ironically could play a very important role in that and Iran too. There are the bones for a grand strategic solution to the Middle East here, if we can get together with people who we viewed as rather hostile."
Lord Richards also confirmed that he drew up a contingency plan to topple Assad two years ago, which involved training a 100,000-strong rebel force opposed to Islamism.
"Back in 2011-12, as was my job, I did offer a coherent military strategy to deal with that. I think it was more than the market would bear, people did not realise the significance of what was happening in Syria at the time and no one really realised that Isis could grow into the hydra that it has," he said.
The military regularly draws up contingency plans for all kinds of scenarios, but this one was considered more seriously than most and widely circulated, including to Downing Street and senior US military staff. It was shelved as being too risky.
Richards said Isis was beginning to be contained but Nato would have to continue working with other governments in the region to defeat Islamist elements in Afghanistan, Jordan, across Kurdish regions and Turkey.
He also called for a bigger long-term plan to stop the growth of extremism. "This is happening all over the world and needs to be the first stage in a grand strategic plan to once and for all deal with Muslim extremism in places such as Nigeria, Kenya, Somalia, Yemen, Pakistan, and now we hear in Myanmar," he said.
Source:
http://www.theguardian.com/politics/2014/sep/05/david-cameron-syria-crush-isis-lord-richards-nato?CMP=twt_gu