Wahabi/Deobandi students hand out Isis leaflets on Oxford Street in attempt to get British Muslims to join jihad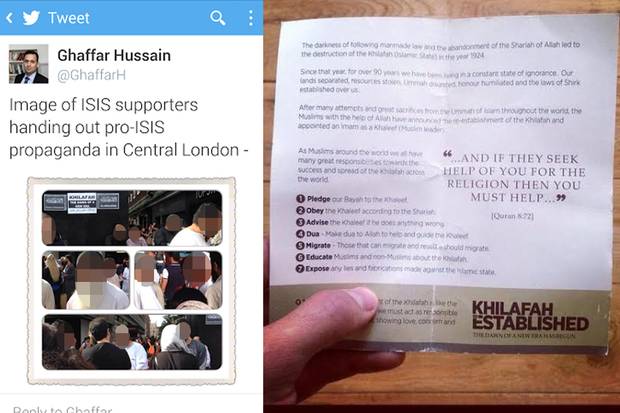 Dozens of the leaflets were circulated on Oxford Street last night saying it is the responsibility of Muslims to pledge allegiance to the "Khaleef" – a reference to Abu Bakr al-Baghdadi, the self-appointed leader of extremists waging a murderous campaign across northern Iraq.
Images of the group were posted on Twitter by users angered by the claims, including one British Muslim who claimed she had been "racially abused" after challenging the group.
The men, from Luton, are former students of banned cleric Omar Bakri and firebrand preacher Anjem Choudary.
Scotland Yard today confirmed it was assessing whether the contents of the leaflets is in breach of anti-terrorism laws.
The spread of pro-Isis material has become a major concern for intelligence chiefs and last night's demonstration is one of the most high-profile to date.
Propaganda: one of the leaflets encouraging British Muslims to join ISIS While the wording of the leaflets, headed "Khilafah established", avoids explicit reference to Isis or al-Baghdadi, it says Muslims have seven duties including pledging allegiance to the khaleef and to migrate to the caliphate.
It reads: "Muslims with the help of Allah have announced the re-establishment of the Khilafah and appointed an imam as a Khaleef."
Haras Rafiq, from counter-extremism thinktank the Quilliam Foundation, said: "Gaza is making a lot of Muslims angry and frustrated and they are using that to make people angrier, radicalise and, it seems, travel out there.
"When they talk about migrating, is that an open call for the people of Britain to go there? Because that is against Government policy, who have said people would be arrested on their return, and a very dangerous message.
"If that is the case, these people are giving out leaflets encouraging people to go out there and join Isis, therefore it seems illegal."
Ghaffar Hussain, managing director of the foundation, denounced the material as a "clear breach of the law".
He said: "This is a very disturbing development but one that should not come as a surprise since we are aware that around 500 British nationals have joined up with ISIS already.
"We need to have a zero tolerance policy towards Isis supporters and recruiters in the UK. It is about supporting one of the most evil groups we have ever seen."
Concern: MPs and anti-radicalisation campaigners have called for an investigation The group, considered so violent even al-Qaeda has severed links with them, has been behind some of the most murderous terrorism seen in recent weeks with reports of beheadings, rapes and massacres in an area it controls now larger than Great Britain. They have forced thousands of Yazidis to flee up mount Sinjar where the UK and US continues to drop aid packages.
During yesterday's canvassing British-Iraqi university student, Asmaa Al-kufaishi, tweeted pictures of the group and told how she was "abused" after challenging them.
She posted: "This group are promoting ISIS on Oxford Street. Racially abused us when we spoke out. They don't know Islam."
Radicalisation: a counter-extremism said that the worsening situation in Gaza is causing anger She later added: "Promoting death of innocent people, telling me to die because of my faith and race and insulting me is not Islamic behaviour."
Choudary today confirmed the men were his and Bakri's former students and said there was "nothing wrong" with wanting "to go to live there and bring up your children under the khilafah".
He claimed the reports of slaughter were "not true" and that Muslims were living in "peace and security under the Sharia".
A Met spokesman said: "The Metropolitan Police Service has been made aware of leaflets which reports state were distributed in the Oxford Street area.
"We are assessing the content of the leaflets to establish whether any criminal offences have been committed."
MP Keith Vaz, chairman of the Home Affairs Select Committee, said: "I am deeply concerned by this literature being handed out on the streets of London.
"Whilst freedom of speech is important we should not allow people to promote extremist views which could lead to terrorist acts. The public should not be subjected to a terrorist recruitment drive in the middle of Europe's biggest shopping high street.
"We have laws governing such issues and I shall be asking Bernard Hogan-Howe, the Commissioner of the Metropolitan Police, what he is doing to ensure that the law is upheld."
Source:
http://www.standard.co.uk/news/london/radical-students-seen-handing-out-leaflets-on-oxford-street-encouraging-british-muslims-to-join-isis-9665280.html
Comments
comments