'Jihadist' flag flown at entrance of East London housing estate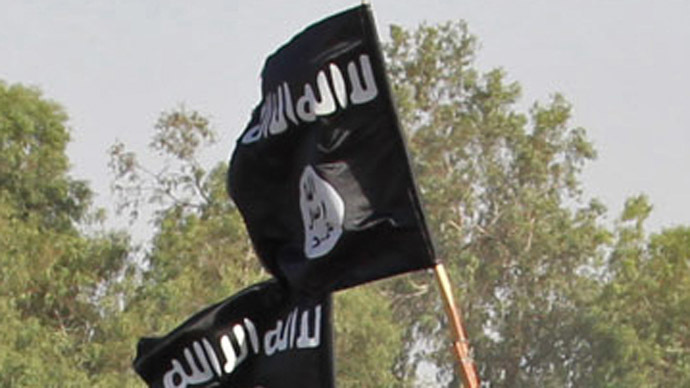 A black flag, bearing white Arabic inscriptions similar to those flown by Jihadis, was mounted at the entrance of a housing estate in Canary Wharf's East London early this week.
Surrounded by an array of Palestinian slogans and flags on the arched gateway of the Wills Crooks estate on Popular High Street, the provocative symbol has generated considerable attention.
The flag bears markedly similar writing to Jihadi flags used by an extremist group in Iraq, and other Jihadi groups throughout the Middle East since the 1990s.
Several Guardian journalists were reportedly verbally accosted on Wednesday night by a crowd of 20 Asians youths as they approached the Wills Crook estate. The journalists were ordered to leave the locale immediately. One youth reportedly threatened to vandalize a camera belonging to one of the reporters.
A passer-by, who allegedly attempted to photograph the flag on his mobile phone, was questioned by a member of the gang as to whether he was Jewish. The passer-by responded: "would it make a difference"?
"Yes, it f***ing would," the youth reportedly replied.
'Isis' flag flown in east London: http://t.co/A65VRgUc3L

— The Guardian (@guardian) August 7, 2014
  On the question of whether the flag bore the Islamic State (formerly ISIS) symbol, a local man emphasized "it's just a flag of Allah." Another man, also present, reportedly added, "so what if it is?" A local man on the scene told the Guardian the flag had been mounted for several days. "People were taking photos of it last night," he added. On Friday morning, a spokeswoman for Scotland Yard confirmed that the Met has received several queries relating to the Jihadist flag flying in East London. But she added that so far the force has received no concrete complaints. While the Dutch government has outlawed the display of Islamic State flags in public areas, they are not officially illegal in Britain. Britain's Defence Secretary, Michael Fallon, said it was "extremely inappropriate" to fly an Islamist "jihadist" flag in the UK, especially at this time "when British lives are at risk – particularly in terms of terrorism from the jihad."
This lot sound a pleasant bunch > 'Jihadist' flag flown in east London http://t.co/GCqtAzEzkb via @guardian — Robin Simcox (@RobinSimcox) August 8, 2014
  Similarly, Al-Qaeda and Islamic State flags were displayed by a group of Asian protestors in East London's Blackwall tunnel in late July. The event, dubbed by one commentator as "the roots of forthcoming Jihadi action", was filmed by the demonstrators and subsequently uploaded on YouTube. An irate and disgusted British Muslim woman, who emphasized she'd been "born and raised" in the UK, commented: "I have to say this is a total farce. If you want your voice to be heard, then demonstrate outside Number 10 not in a tunnel for God's sake!" "I'm really disappointed with this. Demonstrating against what is happening in Gaza gives you no damn right to act like an idiot in public," she added. The footage documents an array of parked cars, with protestors honking horns and shouting "free Palestine." A group of vehicles blocking the tunnel, which connects Greenwich and the Muslim locale of Tower Hamlets, were reportedly graphitized with the tag "Gaza". Following the protest, the mayor of Tower Hamlets ran up a Palestinian flag at the region's town hall. A Conservative Party councilor in the area subsequently warned the community was becoming "radicalized." Recent Jihadi sentiments in the broader UK pro-Palestinian protest movement follow chilling threats from British citizens fighting for extremist terrorist groups in Syria and Iraq. Last month, British nationals fighting for a Sunni militant group who label themselves the Islamic State of Iraq and the Levant (ISIL), warn terror attacks, 9/11-style bombings and violent murders of UK citizens will descend upon London's streets. The "black flag of jihad" will fly over Downing Street, Junaid Hussain, a young Jihadi radical, warned on June 4. Hussain has been fighting in Syria for approximately twelve months.
Tells you all you need to know where the loyalties of many British Asians are http://t.co/faPlYaKjPm via @guardian — Jonathan Perez (@jonperez57) August 7, 2014

Prime Minister, David Cameron, has expressed deep concern about a rising wave of extremism in Britain. The PM has repeatedly called for the preservation and promotion of "British values" as a counterbalance to extremist Islamic undercurrents in British society.
Britain has introduced concrete measures to curb the spread of extremism on UK soil. In July, Twitter blocked all Islamic State related international accounts and the accounts of its supporters in the UK, as social media has been a primary communication platform for global advocates of the Jihadist cause.
Source:
http://rt.com/uk/178908-jihadist-flag-east-london/#.U-aSB5fXzFM.twitter
Comments
comments