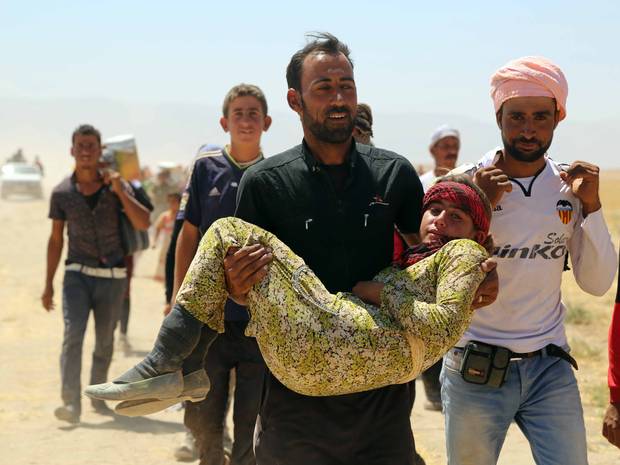 Militants in north-western Iraq have buried women and children alive during their offensive against the Yazidi ethnic minority, according to Iraq's minister for human rights.
The bodies were reportedly found in a mass grave in the wake of Isis's push towards the Sinjar mountain range, where tens of thousands of Kurdish-speaking refugees have been trapped to the point of starvation.
Mohammed Shia al-Sudani said his government had evidence that 500 Yazidi civilians had been killed so far, and that some of the victims had been buried alive. A further 300 Yazidi women have been kidnapped as slaves, he added.
The Isis offensive against the Yazidi people has been described as "genocide in [both] the literal and legalistic sense", and the UN estimates that at least 56 children have died of dehydration alone in the Sinjar mountain camps.
The increasingly horrific nature of Isis's campaign in northern Iraq has now provoked the US to take action, with Barack Obama saying yesterday that action was need to prevent more deaths and provide humanitarian aid.
US Central Command said that over the course of Saturday it carried out four air strikes from its planes and drones over Iraq, targeting the Isis militants as they fired indiscriminately upon civilians.
Military officials said they destroyed armoured carriers and a truck, in what was the third round of air strikes since they were authorised by the President on Thursday.
And while Mr Obama admitted the US military cannot bring peace to Iraq, he said the air strikes were "part of a long-term project" that will continue until Iraq can form a government capable of ensuring the security of its borders.
Britain has now also made its first airdrop of humanitarian aid to the refugees in the Sinjar mountains, performed by an RAF transport aircraft.
Justine Greening, the international development secretary, said: "The world has been shocked by the plight of the Yazidi community. They face appalling conditions, cut off on Mount Sinjar after fleeing persecution by [Isis] extremists."
David Cameron and Mr Obama discussed the airdrops in a phone call yesterday, but agreed that a "long-term solution" would be needed to quell the militant advance.
A refugee Yazidi family A Downing Street spokesman said: "The Prime Minister welcomed the US efforts and made clear that we are keen to work with the Americans on the humanitarian effort.
"They agreed that the immediate priority is to get vital supplies to those trapped on Mount Sinjar and the UK will join the US in delivering aid drops.
"Both leaders also agreed that aid drops are not a long term solution, and that a way must be found to get these people to safety and to avert a genocide."
Source:
http://www.independent.co.uk/news/world/middle-east/iraq-crisis-islamic-militants-buried-alive-yazidi-women-and-children-in-attack-that-killed-500-9659695.html