Iran's Hashmi Rafsanjani calls for Iran-Saudi cooperation against takfiri terrorists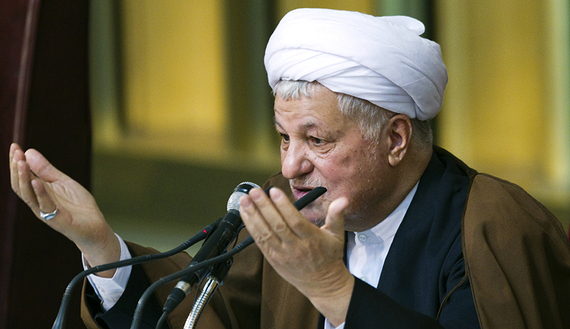 Ayatollah Hashemi Rafsanjani, the former president and current chairman of the Expediency Council, has called for cooperation by regional rivals Iran and Saudi Arabia to counter the rise of terrorism.
"The actions of terrorist groups in the region occurred in the shadows of the differences between Islamic governments, which has weakened the Islamic world," Rafsanjani said in a meeting with Iran's ambassador to Saudi Arabia. The contents of the meeting were shared on Rafsanjani's website.
On the terror groups' recruiting of young people, he said, "With the ignorance they have toward an understanding of Islam, they force pure and simple youth to commit anti-Islamic and anti-humanitarian acts with the excuse of jihad and going to heaven.
"To confront extremism and prevent the reproduction of ignorance," he said, "the effort of all Islamic nations, especially Iran and Saudi Arabia, is necessary to maintain stability and security, so that they are not induced to need the help of foreign powers."
On the role of Iran and Saudi Arabia's clergy and sectarian discourse, Rafsanjani said, "The duty of Muslim clergy, especially in Iran and Saudi Arabia as two influential countries in the region, is to invite moderation, unity, brotherliness and good deeds, so as to draw the true image of Islam in their words, writing and behavior."
Rafsanjani, who has close ties with the Saudi Arabian leadership, particularly King Abdullah bin Abdulaziz, has in recent years promoted closer ties between Shiite Iran and Sunni Saudi Arabia. The two countries are supporting opposing sides in a number of conflicts, including those in Lebanon, Yemen, Iraq and Syria, where civil war over the last three years has led to the deaths of more than 150,000.
Saudi officials have invited Rafsanjani to the kingdom on a number of occasions. However, domestic politics appears to have prevented such a trip. In contrast to Rafsanjani's call for cooperation against terrorism, many officials directly blamed Saudi Arabia for supporting the Islamic State of Iraq and al-Sham (ISIS, now also known as the Islamic State), the al-Qaeda offshoot that overtook parts of Northern Iraq early in June.
Alaeddin Borujerdi, the chairman of the parliamentary National Security and Foreign Policy Committee, is one of the Iran officials blaming Saudi Arabia for supporting ISIS, telling professors at Bushehr Province's Basij University, "America and Saudi Arabia appear to know themselves as being separate from ISIS but in principle, they are the prime sponsors of ISIS and support them."
Borujerdi did not elaborate on this statement, which made headlines in the Iranian media, but the comment is certainly the type of rhetoric that hard-liners have adopted against both the United States and Saudi Arabia.
Not all media organizations and officials in Iran believe that Saudi Arabia is behind ISIS. When King Abdullah called ISIS a terrorist group, many Iranian media outlets ran his statements. Others have covered the threat of ISIS to Saudi Arabia and its interests.
Comments
comments