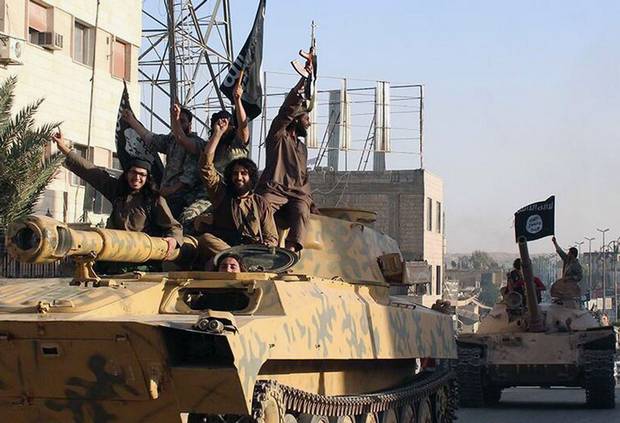 A British jihadist who is fighting for Isis in Syria has said he is willing to die for his cause –  and that there is no turning back.
Abdul Raqib Amin, who was born in Bangladesh but grew up in Aberdeen, was among five men who appeared in a recruitment video by the Islamic militant group last month.
Speaking to ITV's Good Morning Britain on Monday, Raqib said he was fighting for Allah and had been taken to training camps to learn how to use weapons.
"I left the UK to fight for the sake of Allah; to give everything I have for the sake of Allah," he said.
"One of the happiest moments in my life was when the plane took off from Gatwick airport. I was so happy, because as a Muslim you cannot live in the country of Kuffars (disbelievers).
"I didn't know how to fight with weapons before, so everyone has to go to a training camp and after the training camp you go to an Islamic training camp," he said.
"I've been involved in a few combats. The first one I went to it was against the army; we got two tanks that day."
Raqib, who first found out about Isis via the internet, said there were thousands like him, who had travelled from all over the globe to take up arms.
And despite being so far from home and missing his parents, Raqib was firm in his belief that he had made the right decision.
"I obviously miss my parents. We all miss our mums," he said.
"I left the house with the intention not to go back. I'm going to stay and fight until the Khilafah (rule of Islam) is established or I die."
One of Raqib's childhood friends, who chose to remain anonymous, said he believed the young man had been "brainwashed" and said that he had been "impressionable from a young age".
"I think people are taking advantage of that," he said.
Last month Raqib appeared in a 13-minute video, entitled "There is No Life Without Jihad", which urged young Muslim men in Britain to give up "the fat job … the big car" and to "answer the call and fight for Allah".
Muslim leaders in Aberdeen said they were shocked when he was identified in the video.
But Raqib said: "In Aberdeen mosque there is not one person with the same mentality as me.
"I did not learn my jihad from the Aberdeen mosque, I learned that through my own on the internet or whatever. The Aberdeen mosque, they don't agree with jihad and disagree with all these extremists – if you call them that."
Source :
http://www.independent.co.uk/news/world/middle-east/british-isis-fighter-in-syria-says-he-is-willing-to-die-i-left-with-the-intention-not-to-go-back-9589282.html