Deobandi Muslim fanatic murders a pregnant sex worker in Essex because she was working near a mosque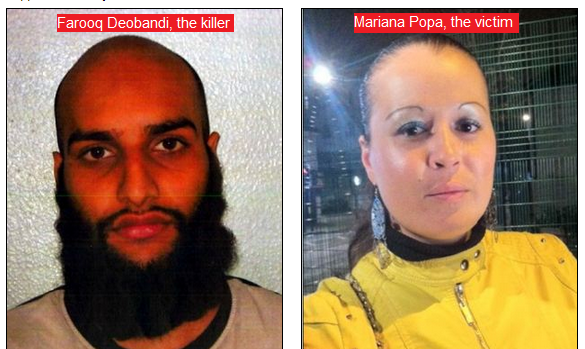 A Deobandi Muslim fanatic who stabbed a pregnant Romanian sex worker to death after warning her not to work near a mosque was jailed for at least 29 years today (27 June 2014). Farooq Shah Deobandi, 21, plunged a knife into Mariana Popa's chest while riding his bicycle along a stretch of road known for sex workers. Miss Popa, 24, had been in Britain for just three weeks and was trying to earn the money to support her family when she was stabbed in Ilford, Essex. She staggered into Chicken & Pizza 4U in Ilford Lane and collapsed in a pool of blood as her killer rode away on his bike. The mother-of-one was six weeks pregnant with her second child when she bled to death.
CCTV footage showed Shah waiting on the forecourt of a BP garage close to where prostitutes were working on Ilford Lane late on October 28. Miss Popa could then be seen to walk towards him and speak to him before he stabbed her twice in the chest.
Prosecutors believe Farooq Shah Deobandi was warning Miss Popa to leave the area – and she paid with her life when she refused. Farooq Shah Deobandi's distinctive appearance exactly matched that of the killer – but he claimed he was the victim of mistaken identity. He was found with another stolen mobile when he was arrested for the murder of Miss Popa.
Farooq Deobandi claimed he was at home watching an episode of Family Guy at the time of the killing after returning from a party in Plaistow drunk and high from smoking cannabis. He said a mystery man approached him on the street while on his way home and sold him the phone.
Judge Christopher Kinch QC jailed Farooq Shah for life and ordered he serve at least 29 years behind bars. The judge said: 'It was an utterly terrible attack which inevitably led to her death. It was carried out with callous indifference on a defenceless woman. Mariana Popa did not stand a chance.'
During the trial Bobbie Cheema QC, prosecuting, asked Farooq Shah: 'What was that conversation with Miss Popa about? 'Did you ask her to go with you? Did you offer her money? Did she say no because you had a bike and didn't even have a car?
Jurors were shown CCTV footage of Farooq Shah from the night he murdered Romanian sex worker Mariana Popa, 24
'Or were you on this night patrolling the area for prostitutes? Did you want to challenge Miss Popa and ask her to get out of that area, to get away from the mosques?'
In his account to the jury, Shah said having women sell their bodies near his mosque or home 'means nothing'
He insisted he was so handsome he would never need to hand over money for sex.
'I would never, ever do that, I'd never pay money for sex. Look at me – I'm not an ugly man'.
An hour before Shah stabbed Miss Popa, he had robbed Ikran Chohan, a blind man of £400 and his mobile phone at knifepoint.
A bicycle matching the description of Miss Popa's killer and Mr Chohan's assailant was also found outside Shah's flat on St Francis Way.
In a statement Miss Popa's boyfriend, Nicolae Drezaliu, said the two of them had moved to London just three weeks before she was killed, following the news that she was pregnant.
Jurors heard the couple, who left the Romanian city of Caracal in 2012 for Italy, decided to move to Ilford where Miss Popa had friends.
'It was while we were in Italy Mariana told me she was pregnant. It was a wanted pregnancy, we wanted to have a child', Mr Drezaliu said.
'Two or three nights she worked until 12.30am and then one time she didn't come back until 9am – she told me she had slept at friends, there was no reason to be suspicious at the time.
'After she was murdered police told me it was possible she was working as a prostitute on Ilford Lane.
'I'm still in shock and devastated. Our plans to have a family have been dashed'.
Shah, of Station Road, Forest Gate, east London, was found guilty of murdering Miss Popa and robbing Mr Chohan.
He was given six years in jail for the robbery to run concurrent
Deobandi fanatics, a semi-Salafi cult, have become a threat to national security of the UK and other Western countries. Almost all terrorists involved in 9/11, 7/7, Madrid and other terror attacks are known to be Salafi Wahhabi and Deobandi fanatics. It may be kept in mind that the majority of Muslims including Sunnis, Sufis, Barelvis and Shias reject Salafi Wahhabi and Deobandi cults. Salafi Wahhabi and Deobandi mosques in the UK, USA and other countries are funded by Saudi Arabia, Kuwait, UAE, Qatar etc and are a major source of brainwashing and recuriting for Al-Qaeda's Jihad in Syria and Iraq.
Read more: http://www.dailymail.co.uk/news/article-2672538/Muslim-man-murders-pregnant-prostitute-working-near-mosque.html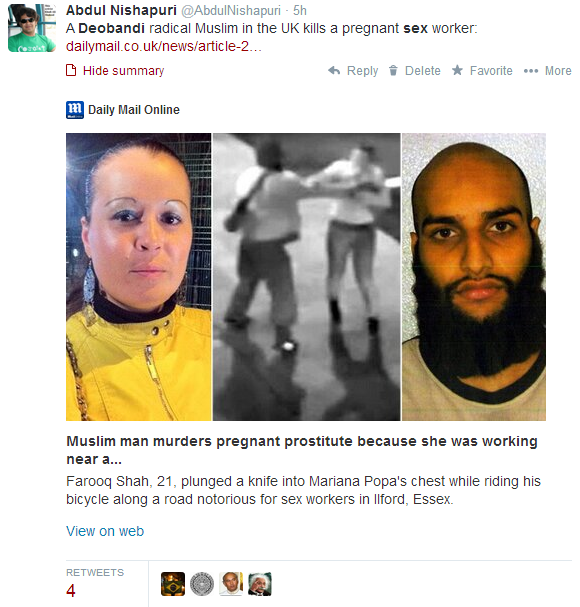 Comments
comments