Who, What, Why: What can you be flogged for in Iran?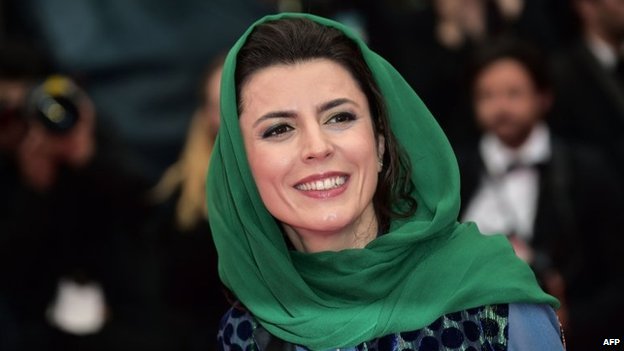 A campaign has begun in Iran to get an actress flogged after she was seen being kissed at the Cannes Festival. Flogging is common in Iran – but what offences in Iranian law are punished with the lash, asks Tom de Castella.
It was a normal French greeting. The actress Leila Hatami – best known for starring in the Oscar-winning film, A Separation – received a kiss on the cheek from festival president Gilles Jacob. But she has come under attack from religious hardliners for accepting the greeting rather than ducking away.
Radical students have condemned her "sinful act of kissing a strange man in public" and demanded she be flogged under article 638 of the criminal code, which deals with public morality.
Adultery, kissing in public, theft, homosexual acts, drinking or selling alcohol, and blasphemy are all grounds for flogging in Iran. Offenders are usually sentenced to between 10 and 100 lashes across the back, carried out with a one-metre (three-foot) whip. The pain is so severe that they often faint after seven or eight strokes, says Anicee Van Engeland, a specialist in Iranian law at London University's School of Oriental and African Studies.
Faranak Amidi of the BBC's Persian Service says the punishment would traditionally have taken place in a public square, in order to humiliate the culprit, but is now often done in a police station. It's a common way of punishing young people for going out and mixing with the opposite sex, she says. She herself was sentenced to 10 lashes after a police raid at a party, although she chose the option of paying a fine instead. Her cousin received 100 lashes for a similar offence and had to be taken to hospital.
Flogging can also be used as a "lenient" punishment for other types of crime, such as adultery, where the death penalty or death by stoning is a possible sentence, says Van Engeland. Children are spared until the age of 18.
Foreigners are unlikely to be punished for holding hands, but those who have sexual relations with a Muslim may be flogged.
Amnesty International's Tom Davies says flogging equates to a form of torture and is banned by international law. As well as physical injury, he says, it can cause long-lasting psychological harm.
Source :
http://www.bbc.com/news/blogs-magazine-monitor-27547956
Comments
comments