The Larkana- Timorous condition and worship places burnt -by Avinash Advani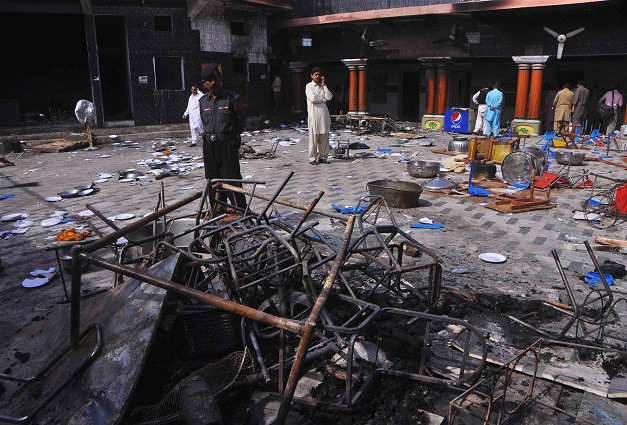 There is history of "Larkana", whereas the world's best scholar belong from Larkana City, Larkana is a district of Sindh province of Pakistan. According to the 1998 census of Pakistan, it had a population of 1,927,066 of which 28.70% were urban. Its main city is Larkana. It is home district of two former Prime Ministers of Pakistan, Zulfikar Ali Bhutto and Benazir Bhutto and also the district of former Chief Minister of Sindh, Mumtaz Ali Bhutto. Other towns of the district include Miro Khan, Ratodero, Dokri, Bakrani and Naodero. In 2005, the Government of Pakistan under Pervez Musharraf bifurcated the district, forming a new district called Qamber and Shahdadkot, with two towns of Qambar Khan and Shahdadkot. Hindus account for around nine percent of Larkana's population of around 400,000, with many running their own businesses. The history describe in Larkana city there was a relationship between hindus and muslims like a brothers as well as they celebrate their festivals with each other while it was Saturday 15,03,2014 around 12pm the critical situation was created along with worship places has burnt by fanatic person, Consequently, curfew has been imposed in all over the city, it was the 1st time in the history of Larkana while Hindus were in threats and even they are trammeled at their homes.
Larkana: Enraged protesters set a Hindu Dharamshala (worship place) ablaze over the alleged desecration of holy pages in Larkana on Saturday. According to reports, a group of furious mob surrounded the house of a Hindu person who allegedly burnt the holy pages, and another attacked a Mandir and set Dharmashala ablaze. Rangers and Police rushed to the spot and fired warning shots and tear gas shells to disperse the protesters. Tension gripped across the metropolis following the incident and a curfew has been imposed in different areas to bring the situation under control. Sindh governor Ishratul Eabad Khan has taken notice of the incident and ordered the concerned authorities to immediately arrest those involved in attacking Hindu temple. He appealed the masses to remain peaceful and keep control over their sentiments. The governor also directed the law enforcement agencies to ensure the protection of life and property of citizens. I have seen treacherous situation albeit I can't visualize that moment was very dangerous and everyone on is gruesome.
Earlier I was confident that Hindus had a majority and they are capable to defend themselves but this catastrophic situation has constrain me to think in a broader way.
Few days ago unidentified person has attempted to murder of Dr.Partab Rai although fortunately he is alive. It isn't 2nd case in Larkana there are many cases escalating which lofty affecting not only the hindus of Larkana but also included all over the Pakistan where Hindus are facing horrible condition whereas there is no assurance of any type of protection our workplaces are under the intimidation, our sisters are restricted at home due to forcibly conversion.
Dr Partap Rai was sitting at his private clinic at Baqrani road when a man came to his clinic and told his secretary that he wanted to see the doctor for his child's check-up. When the man went into the doctor's office, he shot Dr Rai and fugitive. The injured doctor was directly rushed to the CMCH emergency ward where he underwent surgery. He was later referred to a hospital in Karachi. According to sources, the doctor was attacked as he refused to pay extortion. The Dari police station's assistant head constable Saeed Ahmed said that nobody had turned up to register an FIR so far.
Furthermore it has been published on the "Hindus Times its Indian newspaper regarding with this refere "Rinkle Kumari – A Forgotten Story" The three young Hindu women who were allegedly kidnapped, forcibly converted to Islam and married off to Muslim men chose to live with their husbands instead of their families after the Supreme Court of Pakistan on Wednesday allowed them to choose their future.
Though the three women — Rinkle Kumari, Lata and Asha — were allowed to choose according to their free will by the court, their relatives and civil rights activists alleged that injustice had been done to them as they chose to go with the men they were married to out of coercion.
Their contention is that the three had been threatened by Pakistan People's Party parliamentarian Mian Mithu with dire consequences if they returned to their parents. The former federal Minister, Amar Lal, said though Rinkle Kumari and Lata were kept away from their families and husbands in a shelter home, Mian Mithu was able to access them over phone and had threatened to kill their families if they returned to their parents. Mr. Lal quoted Rinkle Kumari — whose case made it to the national media after she was allegedly kidnapped and christened Faryal Bibi — as saying she no longer had any hope from any institution as all of them had failed to protect her. "Rinkle said she was majboor [under compulsion] and threatened suicide," he said, adding that she returned to her spouse to save her relatives.
Many Hindus eagerly wants to migrate from Pakistan but caused by business they couldn't migrate, some of them haven't resources/affordable to migrate as well as some of them they love their homeland there are many reasons that restrain to them while I am sure after this incident Hindus of Pakistan will decide to migration. Consequently Hindus are insecure in Pakistan and it's not only lack of government but also many fanatic people included from upper level to lower level.
http://www.pakistantribune.com.pk/11916/desecration-holy-pages-hindu-worship-place-set-ablaze-larkana.html#sthash.ZETFv9oj.dpuf
http://www.thehindu.com/news/international/forcibly-converted-hindu-women-choose-to-stay-with-husbands/article3328893.ece
http://tribune.com.pk/story/676065/feeling-insecure-medical-fraternity-protests-attack-on-doctor/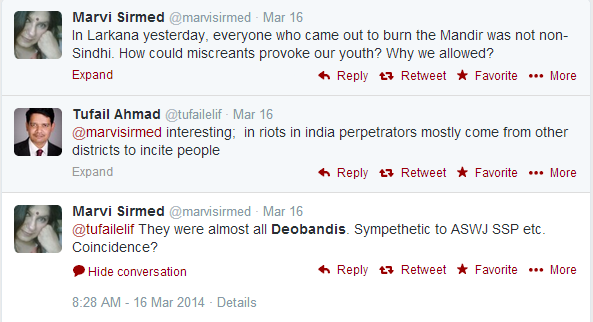 Comments
comments