'Aawaz Uthey Gi' -by Hina Mehr Nadeem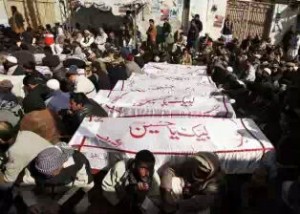 This is not the first time that those barbarians have targeted Hazarians. This is not the first the bus of Shia pilgrims travelling to and from Iran is bombed. This not the first time the roads of Balochistan are reddened with the blood of the innocent Hazarians. This is not the first time that a Hazarian mother with teary eyes chanting 'Labbak-Ya-Hussain' protested with the dead body of her only son on Alamdar road for 36 hours. This is not the first time that a Hazarian brother, Ibtihaj, has lost her dear sister, Rida. This is not the first time the whole country is mourning the genocide of Hazarians. This is not the first time…
Today, the Hazara graveyard in Quetta will be more crowded than usual as after protesting for more than 36 hours, in this severe weather, with the teary eyes Hazarians will bury their loved ones.
Can you imagine sitting with the dead body of your daughter who was just 7 year old and became victim of terrorism? Can you imagine of not seeing your sister, brother or father again?! Can you imagine your mother sitting with the dead body of your brother waiting for the justice?! No, I can't! I can't even imagine what Hazarians will be going through and how they would recover from this huge loss. My heart sheds blood tears for them…
Do you know, during these 36 hours, what chills me to the bones most? The silence, the silence of the Roshan government who didn't even say a word to console the Hazarians. Don't know what it was afraid of? May be this was what it was elected for. Elected to remain silent on OUR brutually killing… Elected to remain missing when WE need it… Why only blame the 'Roshan' government? Why not blame our so called LEADERS who after the death of Hakeem-ul-Mahsood, a militant who murdered 60K innocent Pakistanis, who was actually a 'AMAN KI ASHA' for them, did dharnas for blocking Nato supply and stopping drones? I ask those INKALBI leaders why not a dharna against the brutual killing of my Hazarian brothers and sisters?
When the siblings, Bilawal and Bakhtawar Bhutto Zardari, who are not even the half of age of our LEADERS and who lost their mom due to Terrorism, standing infront of their mother pic with Pakistan flag on their right, holding Rida and Ibtihaj' pic can raise their voices for Rida, Ibtihaj & all Hazarians. Than why can't our 60+ leaders, who chant 'INKALAB AHAY GA', can do the same? Come on, Inkalbi leaders, qadum berhao, dharna do hum tumharay saht hai! ( Ahhh, I now it's useless to say this because they will never. Their life is for their Peace brothers not for US. )
The next target of those barbarians can be you, me and our loved ones. How long we will remain silent? How long we will depend on our so called leaders and will let them to lick the feet of those who are killing us? How long we will let those barbarians to brutually kill our loved ones and redden their hands with OUR blood? How long… The time will come when #AwazUtheyGI. You know when that time will come and that AWAZ KAB UTHEY GI? That time will come when uniting and standing against TTP holding our hands we ALL will show the balls to raise the voice against the militant. When we will kick off the 'Gahsatgardo K yaar'. When together we will chant:
GAHSATGARDO KA JO YAAR HAI, GHADAR HAI, GHADAR HAI
Comments
comments