Sahab Hamien Jaane Do – by Irfan Tramboo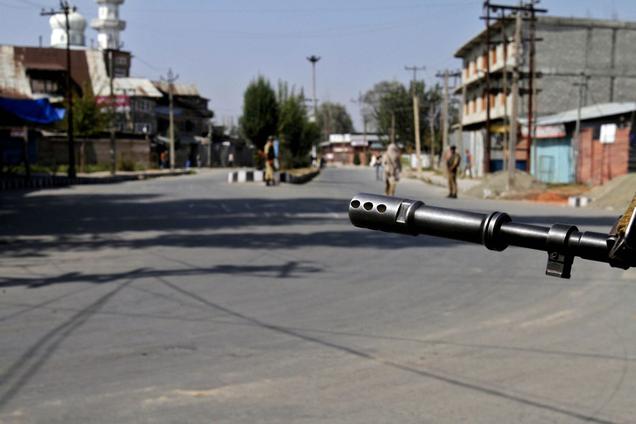 Unaware of all the happenings of outside world Shafat opened his eyes when the morning light struck his eyes. He was certainly unaware of the fact that the curfew had been imposed in entire valley after the tragic incident in Gool Ramban the previous day.
He slowly opened up the window of his room and cleaned the ash tray lying there. He sprinkled some puffs from a room freshener so as to do away with the bad smell of cigarettes he had last night, as his mother could come inside his room anytime. It was almost 8:30 AM- the time his mother usually would wake him up. However the situation was different today. He kept on waiting for her for around 15 minutes but she didn't come.
He decided to check whether everything was fine.
Shafat opened the door of his room and entered into the kitchen where he found his mother lying down unconscious.  Bewildered, he couldn't understand what to do. In hurry Shafat sprinkled some water on her face and rubbed her feet, but all in vain. She was still unconscious.
Shafat decided to take her to the hospital. He went out of his home and called on his neighbor.
"Feroz Ahmadaaa, Katte sa cukh? Talsa auto kadd, mummy gae bemaar (Feroz where are you? Please get your auto, my mother felt sick)"
Feroz Ahmad an auto driver informed him that curfew was in place.
"What Curfew!" Shafat was shocked.
Auto driver was not ready to take out his auto in to curfew.
"It will not be safe to go out" said Feroz.
"Then what to do? Should we wait till my mother will breathe her last?" asked Shafat.
The auto driver was still unmoved. He was visibly not ready to go out.
Shafat got into his house and lifted her mother into his arms and started heading towards the hospital and all this was happening in front of Feroz.
When Feroz saw Shafat lifting her mother into his strong arms, his consciousness started pinching him.
"Lout ha Shafat saeba, bette ha yemmae. (Wait I will come with you)"
Feroz agreed to accompany him.
Shafat got inside the auto and they started heading towards hospital.
Hospital was at the distance of 5 kms and it would take them just 15 minutes to reach there. However this short distance came out to be a long marathon and took them an hour to reach there.
They were about to a cross a bridge which connected their area with the rest when a CRPF man wearing a riot gear came and without asking anything he smashed window panes of the auto, then them where they were going.
"Kahaan jaana hai curfew mein?" CRPF man questioned.
"Ye mere ammi hai, bemaar hai buhat inko hospital le jana hai" Shafat replied.
CRPF man didn't allow them to pass and compelled both of them to turn back.
Shafat pleaded before them to let them go, but they didn't pay any heed.
"Sahab ye mar jaaege, jaane do" Shafat pleaded.
"Itne saare log marte hai abb aik aur marjaane se kya hoga" he replied.
His reply acted as a bullet which pierced Shafat's chest and he was unable to utter a word.
Feroz intercepted Shafat and asked him to get into the auto.
"We will go from another side, come sit"
They went from another side and once again same thing happened, they were not allowed to pass.
At every point Shafat was there to face the thwart of police and CRPF men. Some were abusing him, some damaged their auto and some were treating him as if he was a terrorist.
He was helpless. He pleaded a police man to let them go. "You are a Kashmiri. At least you should feel my pain. I will have no regrets if a CRPF man will not let us go. He is not a Kashmiri and he will not understand. For god sake let us go… Please" Shaft pleaded with his eyes moist.
The police man finally allowed them to go. Perhaps Shafat's moist eyes did the job or as a Kashmiri he understood his pain and agony and allowed them to go.
When Shafat got inside the auto and pretended to be fine but he was not. He had something deep into his mind which he was not ready to accept, but there was something inside, turbulences, wounds. However for now he had decided to keep them to itself and not to let them dominate. His first priority was to admit her mother in the hospital and everything else will come next.
P.S: Shafat was lucky that he was allowed to take her mother to the hospital. Many such cases have been seen here in valley where a pregnant lady died while she was being carried to a maternity hospital and in mid way when so-called sec-u-rity forces while performing their duty didn't let her  reach to a nearby hospital . Hence snatching the right to live from her and from a baby who was yet to born, who was yet to see the inhuman behavior of some humans on this part of the world, who was yet to face the oppression of the oppressive regimes and yes who was yet to face this curfew, which Shafat was facing while taking her mother to a nearby hospital.
Everyone here is facing the brutal face of occupation. Be it a child who was yet to be born or an elderly person who is unable to talk or walk properly, and usually these oppressive tactics beget a spark which ultimately gives birth to a devastating fire, transposing the empire of tyrants into ashes and leaving no traces behind. As it has been beautifully said that:
'Tumhari Dastaan Tak Bhi Na Rahege Dastaanu Mein'
Some Englishmen beautifully explaining my above paragraphs by saying that "All oppression creates a state of war."
Author is a freelance Writer Based in Srinagar (J&K). Contributing features, fiction pieces and short stories for local dailies and online magazines
can be reached at: irfantramboo@gmail.com
Comments
comments