PTI-Jamaat coalition in KPK province shows its pro-Taliban, anti-women colours once again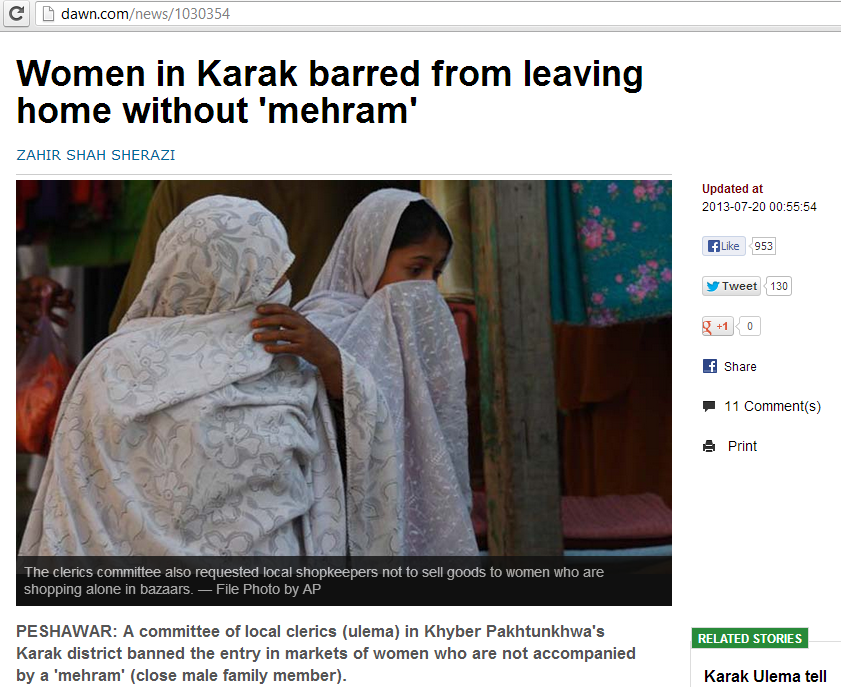 The above news clip is a clear reminder, once again, of those fifth columnists in Pakistani society who stand with the Taliban.
It is clear as day that today, Imran Khan's PTI and its KPK provincial Government coalition partner, JI (Jamaat-e-Islami) stand in solidarity with the Taliban. Those fake civil society types and their idols in the media who continuously attack progressive parties stand exposed as hypocrites.  They maintain a calculated  silence when it comes to being critical of PTI's pro Taliban and anti- Women stance.
It may be noted that PTI has won MNA and MPA seats from Karak‬ where local jirga of Deobandi clerics of PTI, Jamaat Islami and JUI banned women from shopping alone in markets. Deobandi clerics banned the entry in markets of women who are not accompanied by a 'mehram'. Who will take notice of it? Imran Khan or Chief Minister of KPK? Or PM Nawaz Sharif? http://dawn.com/news/1030354  Apparently, the DCO Aqal Badhsh has an intelligent solution: Men should stay home to be respectful in Ramzaan! http://www.thenews.com.pk/Todays-News-13-24261-Karak-women-asked-not-to-visit-markets-alone
Dawn:
http://dawn.com/news/1030354

PESHAWAR: A committee of local clerics (ulema) in Khyber Pakhtunkhwa's Karak district banned the entry in markets of women who are not accompanied by a 'mehram' (close male family member).

The local clerics committee of Khattak Ittehad held a meeting at the Tehsil Masjid Karak, headed by former district amir of Jamiat-i-Ulema Islam Hafiz Abne Amin on Friday decided that women roaming in the city bazaars (markets) without male members of their family were a source of spreading vulgarity in the society and should be stopped.

The meeting which was also attended by Mualana Mir Zaqeem, Mualana Abdul Rehman and other clerics.

The clerics also met the local administration and the police to implement the decision but they had refused to facilitate the implementation of this decision.

When contacted, Mir Zaqeem who is the head of Khattak Ittehad, Karak city said that the decision was taken because most unaccompanied women were becoming a source of spreading vulgarity, especially in the holy month of Ramazan.

He added that a group of such women (without a mehram) were also involved in theft and robberies.

The Maulana further said that unaccompanied women in bazaars was not only against local Pakhtun culture but also against religious norms.

He added that those women who were accompanied by a mehram would not be stopped from coming to bazaars.

The clerics committee also requested local shopkeepers not to sell goods to women who are shopping alone in bazaars.
Comments
comments