PML-N and PTI leaders leave thousands to die slowly – by Shiraz Paracha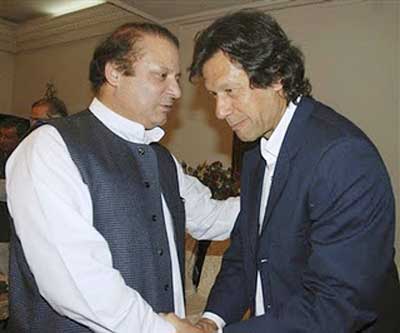 Dust, dirt and danger of death—slow death—are conditions in which hundreds and thousand of people live near Islamabad. These people are voters of Chaudhry Nisar Ali Khan of PMLN and Ghulam Sarwar Khan of PTI. On Friday, I was in the National Assembly constituency NA 53 that comprises parts of Rawalpindi and Taxila. It was one of the horrific experiences of my life.
Living conditions in the area are miserable. After spending several hours in thick dust, walking in dirt and liter and driving on broken roads, my friend and I looked like ghosts but we discovered an ugly side of Chaudhry Nisar and Ghulam Sarwar Khan.
Lives of thousands of innocent people are at risk due to the air pollution caused by half a dozen cement factories and more than 100 stone-crushing machines within radius of 50 miles. The area around the Margalla Hills near Taxila lacks roads, sanitation system, clean water and very basic facilities and services. The people of this area have been electing PMLN Chaudhry Nisar for 28 years and Ghulam Sarwar, who is now in PTI, since 2002.
Astonishingly, numerous media freedom custodians are based in Islamabad yet we don't know about a human catastrophe that might be waiting to happen near the Capital. Every evening, journalists and anchorpersons in shiny suits scream on TV screens about non-issues but have they questioned the performance of Chaudhry Nisar and Ghulam Sarwar Khan, or have they investigated deeds of Taji Khokhar and other members of land mafia in Rawalpindi & Islamabad?
After talking to people in the area we learned that Chaudhry Nisar and Ghulam Sarwar both support land grabbers and criminal mafia. They patronize deadly stone crushing that is extremely harmful to people and the environment. It is shocking that a head of criminal gangs is Pakistan's interior minister and another represents Imran Khan's 'clean and transparent' PTI.
Pakistan's military owns three cement factories in the area. One Askari Cement factory is near Hasanabdal, Fauji Cement is between Taxila and Hasanabdal and another Askari Cement is just across the river Indus opposite Attock district. The rest of the cement factories in the area are owned by powerful people of Rawalpindi division.
Cement factories release dangerous chemicals and dust particles in the air, and pollute surrounding land and water as well. The air in the area is further polluted by the tremendous amounts of dust generated by over 100 stone-crushing machines. Thousands of heavy trucks carrying crushed stones and cement from this area cause more pollution making it a death zone for residents.
Stone-crushing machines in the Margalla Hills near Taxila are owned by powerful politicians affiliated to PMLN and PTI. A PTI MPA from KP district Nowshera is said to own stone-crushing machines in the area as well.
From Islamabad to Hasanabdal people living on both sides of the GT Road, particularly population on the left side of the GT Road between Taxila and Attock, are at great risk. In this area, like in most parts of Pakistan, food items—meat, vegetables, fruits etc—in small shops are sold uncovered. The dust and toxics materials generated by cement factories and stone crushing machines are automatically added to food sold in the open.
Hygienic conditions, otherwise, are also very poor. Piles of plastic and liter block primitive and very rudimentary sanitation channels, consequently the area is full of dirt and people are forced to live in dirt. I am sure if a survey on the public health is conducted in the area it will have shocking results with regards to heath of the people living in this area.
Earlier this year, the Punjab Environmental Tribunal had fined several stone-crushing machine owners of the area for operating without getting approval from the Punjab Environment Protection Agency (EPA) but the fines were small and the powerful mafia continues to play with publics' life under the patronage of Chudhry Nisar and Ghulam Sarwar Khan.
Comments
comments