Demographic composition of foreign Jihadist militants in Syria – USA Study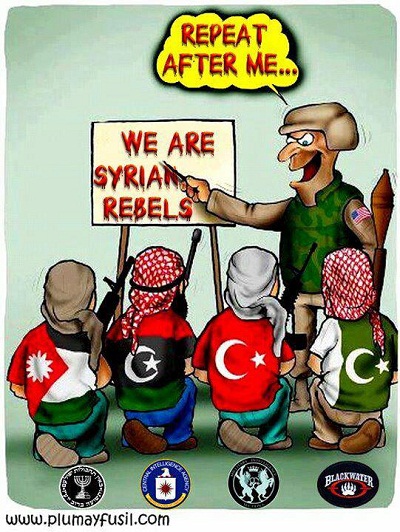 Among the 280 dead fighters in Syria whose cases were examined, the largest single contingent — 60 — came from Libya, and the second-largest group — 47 — came from Tunisia. The third largest group of dead foreign fighters in Syria consisted of 44 Saudis, followed by 32 Jordanians, 27 Egyptians, 20 Lebanese, seven Russians, five Kuwaitis, five Chechens, and three Iraqis.
Nicole Lynn Mansfield of Flint, Michigan, a convert to Islam, was killed last week in the company of Syrian rebels in Idlib province, Syrian state media said. Former US soldier Eric Harroun was arrested on his return to the United States in March and charged with conspiring to use a rocket-propelled grenade in Syria. Investigators said he acknowledged fighting with Syrian rebels, including the Nusra Front, which Washington says is a branch of Al Qaeda.
US officials and experts say there is little hard information on other Americans who have gone to Syria to fight. By contrast, foreign fighters from other countries are flocking to join the rebels in Syria, inspired by Saudi Salafist Jihadist ideology and generous funding from Saudi Arabia, Qatar and other pro-Wahhabi countries.
One expert who monitors US militant activities and websites, up to 20 American Wahhabi Deobandi Muslims may have gone to Syria. A US security official said there was no formal US government tally of how many Americans had gone to Syria to fight Assad but that the best current estimate was "a handful."
According to a new study about foreign fighters reported killed in the Syrian conflict, the largest contingents of Jihadist foreigners participating in the conflict come from neighbouring countries.
The study said the death toll also included single foreign fighters from countries including Denmark, France, Uzbekistan, Ireland, Morocco, Pakistan, Algeria, Kosovo, Turkey, Bulgaria, Britain and the United States, as well as three from Dagestan and two Australians.
The study authors also stated that the "lion's share" of foreign fighters who died in Syria did so while fighting with the most hardline Wahhabi-Salafist organisation involved in the uprising, namely the Nusra Front, known in Arabic as Jabhat Al Nusra, aka Al Qaeda in Syria.
http://www.greaterkashmir.com/news/2013/Jun/9/americans-join-rebels-to-fight-assad-forces-44.asp
BBC Report: About 20 Tunisian parents travelled to Damascus on a trip initiated by Tunisian civil society activists; and taken up by Syrians who see an opportunity to try to get a growing number of foreign jihadists off the battlefield.

"More than 42 countries are now sending fighters to cause bloodshed in Syria," declared Syrian-American industrialist Khaled Mahjoub, who is on a mission to take on Islamists he calls "Salafi Wahabis powered by petrodollars".

Syrian mothers show the pictures of their sons lost in the war

As G8 leaders meet in Northern Ireland, a Syrian with close ties to President Assad's family wants to capitalise on growing anxiety in Europe over what are believed to be hundreds of European jihadists now fighting in Syria.

"Europe today is having a new Pakistan on its border," he warned in an interview in Damascus. "The real problem is the transit through Turkey and the incubation of all those foreign fighters coming from Europe who will be going back to Europe."

That warning was echoed by a delegation of European Union politicians, mainly from far right parties, who also came to Damascus last week at the invitation of the Syrian government.

"If they come back to our country they will fight jihad not in Syria anymore but on European soil," Belgian Senator Filip Dewinter told me when we met outside a police station targeted by a double suicide bombing only hours after they arrived.

"This is a very, very big threat for all European countries, not just for Belgium."
http://www.bbc.co.uk/news/world-22941966
Comments
comments