An open letter to The Honorable Chief Election Commissioner Pakistan – by Ali Asad
The Honourable Chief Election Commissioner Pakistan
 I hereby attaching two decisions of The Supreme Court of Pakistan. One of them is the decision of 5 judges of SCP acquitting Mian Nawaz Sharif in plane hijacking and Helicopter ownership case. Just going through the judgement clearly indicates that Mian Nawaz Sharif mislead the apex court while giving reason of appealing after eight years of the judgement of The Sind High Court. Mian Nawaz Sharif's stance was that he did not appeal against the judgements because the courts were constituted by the dictator Pervez Musharraf. The fact is that Mian Nawaz Sharif appealed against the judgement of Mr. Rehmat Hussain Jafri ( announced on 6 April 2000) in The Sind High Court. His appeal was turned down on 30 October 2000.
The Sind High Court Judges were also administered oath on PCO 1999. It tantamounts to be misleading the apex court and is an offence under the law.
    The second attachment is the Transparency International Report 2003 in which some cases with Judicial Corruption have been discussed. It contains a judgement of The Supreme Court of Pakistan setting aside the judgement of Malik Qayyum J. agains Mohtarma Benazir and Asif ali Zardari. The Supreme Court clearly declares that the Prime Minister (Mian Nawaz Sharif) pressured the Judge Malik Qayyum to sentence his (PM) political oponents. see pages 34-61.
 Does this man desrve to be public representative Sir?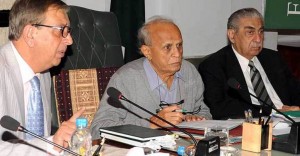 Comments
comments