Elections 2013: PML-N awards ticket to Sipah-e-Sahaba terrorist Ibad Dogar – by Zain Gardezi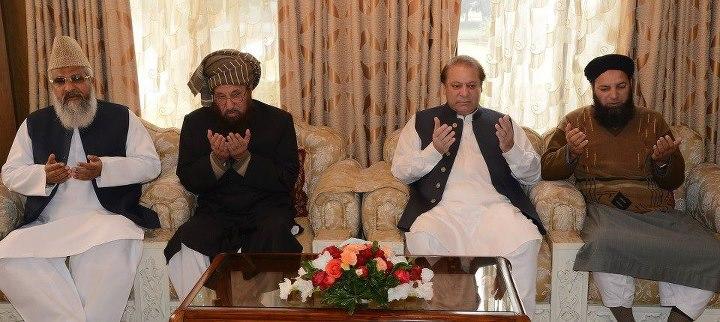 It appears that as expected of them, Sharifs are still sticking on to their support of Takfiri terrorists of Anjuman Sipah e Sahaba (ASS, also variously known as SSP, ASWJ and LeJ) despite their costume operations of detainment of Malik Ishaq Deobandi (as state guest) and inclusion of Sheikh Waqas Akram in their party fold. Not only are they still sticking on to their coalition with ASS, they have decided to support them to a whole new level.
While PMLN's ally Ejaz ul Haq is currently convincing chief ASS Ahmed Ludhianvi Deobandi for seat adjustment while former was irked by inclusion of Waqas, PMLN itself has gone on to take one step further to appease terrorists.
While PMLN's leaders like Pervez Rashid deny any seat adjustment with ASS, the party has started to include ASS members within their own party and even has given them tickets to give them more legitimacy.
One such example is Amir Dogar, an active ASS/LeJ activist.
http://www.bbc.co.uk/urdu/pakistan/2013/04/130401_pak_politics_aijaz-ra.shtml
نوابزادہ نصراللہ کے صاحبزادے کو مسلم لیگ (ن) اس بار ٹکٹ نہیں دے رہی اور عباد ڈوگر کو ٹکٹ دیا ہے۔ عباد ڈوگر کالعدم سپاہ صحابہ کے سابق عہدیدار ہیں اور توہین رسالت کی ملزمہ آسیہ خاتون کے حق میں بیان دینے کے بعد پنجاب کے اس وقت کے گورنر سلمان تاثیر کو قتل کرنے والے کو ایک کروڑ انعام دینے سے متعلق ان کا بیان شائع ہوا تھا۔ لیکن بعد میں انہوں نے اس کی تردید کی تھی۔
Apparently iconic rebel politician, Late Nawabzada Nasarullah's son is casualty of this move and PMLN would rather back terrorist mafias over seasoned politicians to gain votes and to remain on the good side of the ASS. Not only is Mr Dogar an SSP member but he also offered to give 20 million Rs to the anyone who would kill martyred Punjab Governor Taseer.  Probably he befriended with Rana Sanaullah (former Law Minister in Shahbaz Sharif government) during the same time when the both were busy instigating hatred against the martyred governor. Rana Sanaullah of course took some actual steps in this regard as well and his ministry appointed an unstable person to guard the late governor who was already declared unfit to serve high ranking personnel by the departments internal reports. The same ex-minister has had a role of a glorified tout, doing bidding and dirt works of Sharifs including the association with ASS/LeJ. Mr. Sanaullah do not mind getting his hands dirty with the ASS.
In other news, intelligence agencies has reported (as indicated in Express Tribune) that the guard doing the duty at Data Darbar shrine is an LeJ activist cum HR Manager. Data Darbar of course has been attacked by LeJ/ASS in the past as well and putting such a person on its guard duty is exactly the same kind of move which got Governor Taseer killed. Not surprisingly, during both appointments law ministry was under Rana Sanaullah.
However since the intelligence report has been surfaced now during the interim setup, it is however now the duty of interim Chief Minister Najam Sethi to look into the matter at highest priority and not only remove the person from the post, but also put the investigative task force to investigate his recruitment centers for LeJ. Up till this moment, no action has been taken even after the report has been published couple of days ago. While Mr. Sethi is busy in giving photo shoots and selecting dates for Basant, would it not be more prudent that he should keep his priorities straight?
And while we are on the subject of Mr. Najam Sethi, the hardcore interview of Ahmed Ludhianvi that he had promised to be conducted by Raza Rumi in The Friday Times has still not surfaced.
Comments
comments