No equality for women, Shias and non-Muslims in MDM's manifesto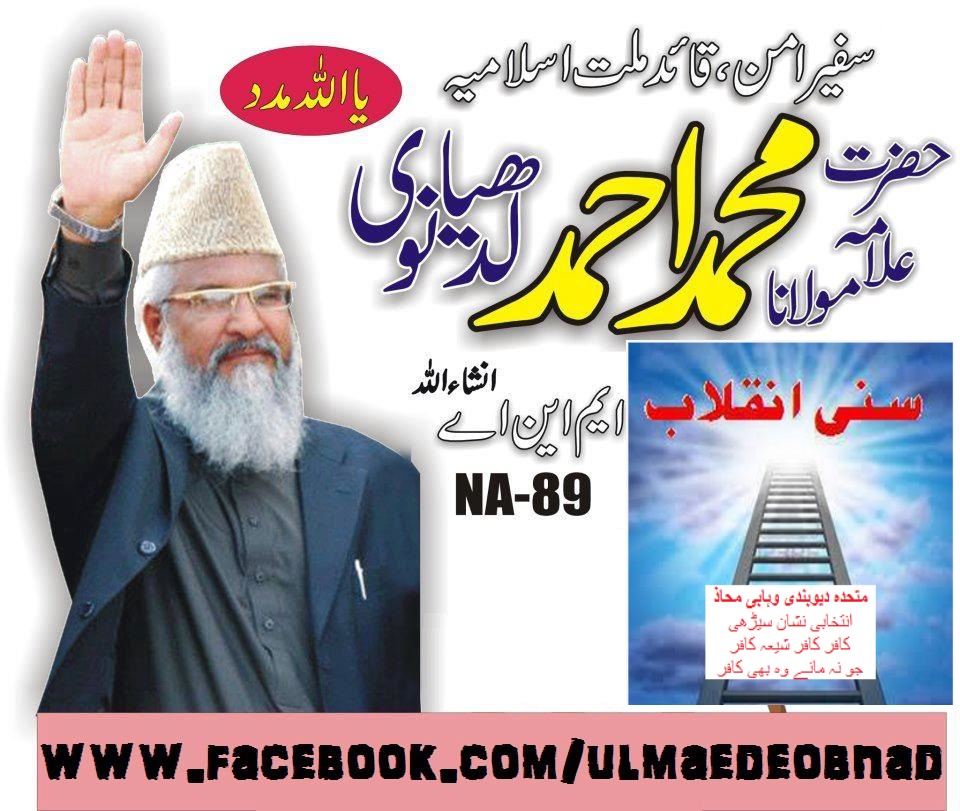 The election manifesto of the new Deobandi-Wahhabi alliance (MDM) of terrorist groups (ASWJ, JUI-S, Jamiat Ahle Hadith etc) violates not only Pakistani law but also the code of conduct of Pakistan Election Commission which does not allow any candidate or party to incite sectarian hatred in their election campaign.
All manifestos that contradict the constitution of Pakistan should not be tolerated and the MDM's anti-women, anti-Shia, anti-minorities manifesto will further aggravate the anti-Shia, anti-women, anti-minorities violence in Pakistan.
The MDM (Muttahida Deeni Mahaz) Deobandi-Wahhabi alliance has decided to field 130 candidates from across the country to contest the upcoming elections for National Assembly consituencies. "We have decided, with consensus, to get seat adjustment with any other parties that share our manifesto," said the chief of JUI-S, Maulana Samiul Haq Deobandi, who is also the chairman of MDM. He Addressing the media here on Monday, Haq also unveiled the manifesto of the MDM at the occasion.
"The MDM alliance aims for the establishment of the true Islamic system of caliphate in Pakistan and implementation of Shariah in the country that was created in the name of Islam," he said. The JUI-S chief further said that, if elected, the alliance would eliminate all laws contrary to Islamic laws besides implementing the recommendations of the Council of Islamic Ideology (CII).
The alliance's government would not allow any amendments in the 22 Islamic provisions of 1973's constitution that were formulated by 31 religious scholars. "Non-Muslims and apostates will be banned from main public office jobs in Pakistan," said the MDM chairman. "The president, prime minister, chief justice, senate chairman, national assembly speaker, all forces' chiefs, provincial governors, chief ministers and heads of intelligence agencies will have to be male Sunni Muslim," he added.
Haq said that they would not allow any verbal or written critique on Islam or any of its orders and faith.
He also said the MDM  (Muttahida Deobandi-Wahhabi Mahaz) will establish a system of accountability on federal and provincial levels that would urge people to offer prayers five times a day in the mosque.
Furthermore, co-education would be banned and religious seminaries would be further developed. "All education facilities will be equally available to every citizen without class difference. The children of labourers and farmers will be given free education," said Haq.
He said the MDM aims to take Pakistan out of the influence the US. "We will stop drone attacks besides blocking Pakistan's logistic support to Nato and its allies," said Haq.
The MDM government would provide complete moral support to Taliban in Afghanistan and people of Kashmir in their independence movement, the Mahaaz chief added.
http://tribune.com.pk/story/526515/upcoming-elections-aswj-jui-s-three-others-form-alliance/
سربراہ متحدہ دینی محاذ شیخ الحدیث مولانا سمیع الحق صاحب کی پریس کانفرنس
(متحدہ دینی محاذ کا منشور)
اسلامی نظریاتی کونسل کی سفارشات کوآئنی طور پر نافذ۔ صدر مملکت، وزیراعظم، چیف جسٹس اورسروسزچیفس سمیت اعلی عہدوں پر مرد اورسنی العقیدہ مسلمان ہونالازمی
تعلیم کی بنیاد اسلام پر، دینی مدارس کی آذادی، عربی زبان کوتعلیمی اداروں میں رائج
آذاد خارجہ پالیسی، ڈرون حملے بند، سٹہ بازی کا خاتمہ
بیرون ملک سرمائےکی منتقلی پرپابندی اور ہر مسلمان بالغ کوجہادکی تربیت دی جائےگی
انتخابی نشان: سیڑھی
http://www.facebook.com/photo.php?fbid=647822055234803&set=a.572873892729620.149104.144428562240824&type=1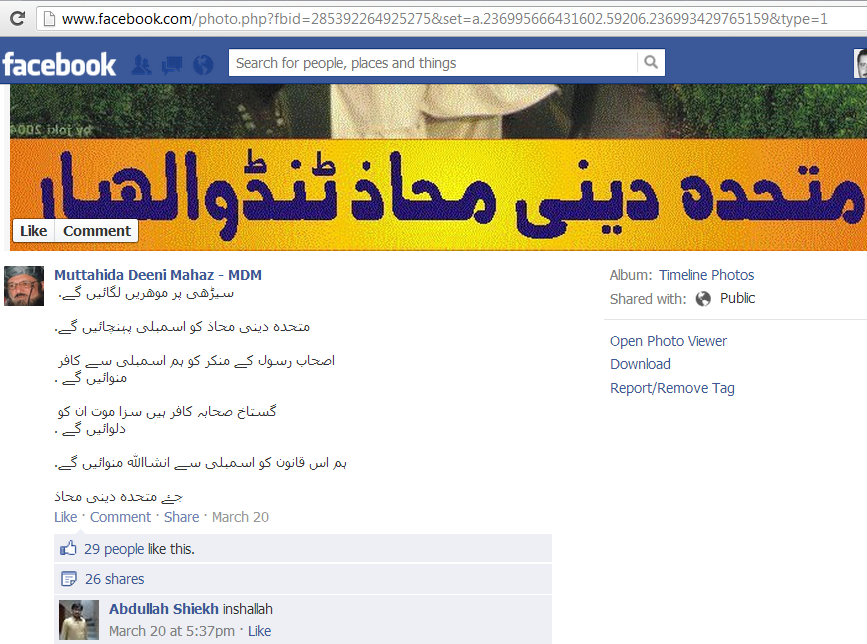 Comments
comments