Rimsha Masih case: APMA's dubious fundraising -by Arif Bhatti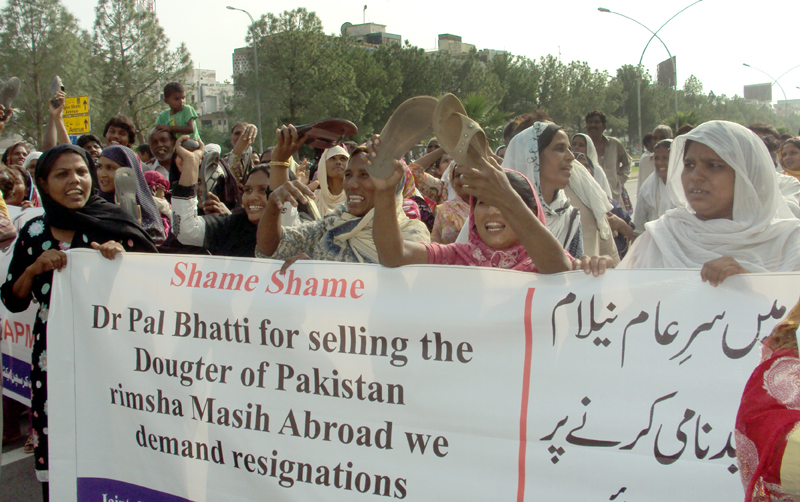 Below is the email sent by International Christian Voice Canada (ICV) which gives account of the funds raised for Rimsha and a letter of Dr. Paul Bhatti showing support for the use of funds.
Essentially it states that $3,500 was used for Rimsha's legal fee and resettlement.
Following questions should be answered to show proper accountability and transparency.
1) Dr. Paul Bhatti is Mr. Peter Bhatti's brother, it is like left hand giving money to the right hand and saying that it is spent and then adding insulting to the injury by providing a letter from his brother in Pakistan as support.
2) APMA and ICV always said that case was handled by Mr. Tahir Naveed, member of APMA executive and a lawyer by profession, if this was the case why was money given to him, simply said, this money was retained by APMA, it seems.
3) Fund raising was done for Rimsha by ICV, why was money given to others, which seems doubtful anyhow, as no independent proof is provided showing the distribution of food packages. I think ICV should get details on how packages were distributed and names and pictures of people receiving them. Also, what was included in the packages distributed and what was the cost of each.
If above concerns are not addressed by ICV, one can safely assume what happened to the hard earned money of people in Canada and who really benefited from it.
From: c-voice@hotmail.com
To: c-voice@hotmail.com
Subject: Update of Rimsha Masih fundraiser
Date: Sun, 30 Dec 2012 23:04:57 -0500
On behalf of ICV, I would like to congratulate every one that contributed to the fundraiser for Rimsha Masih. Your continuing support of Rimsha Masih and those families impacted by this incident has bared it fruits. For the first time in the history of Pakistan a blasphemy case has been completely proven false and the true perpetrator was apprehended.
We raise our voices against injustice and gain victory by the grace of God; now it is the time for us to stand vigilante and continue to fight against inequality. We want to thank all our friends and well wishers in the GTA and in Pakistan who came forward to show their solidarity.
International Christian Voice would also like to inform you of the letter received from All Pakistan Minorities Alliance (APMA) Chairman Dr Paul Bhatti on Dec. 23, 2012 in regards to ICV's contribution. This letter detailed both the confirmation of funds received and distribution of fund towards the help Rimsha Masih and affected families. Please see attached for more details.
International Christian Voice is very pleased to announce that on March 2nd 2013, the second anniversary of Martyr Shahbaz Bhatti's great sacrifice will be celebrated. Time and venue will be announced shortly, please reserve this date and join International Christian Voice to support the vision of Martyr Shahbaz Bhatti.
"Equal rights for all religious minorities in Pakistan"
Once again I want to thank all the community members for supporting Rimsha Masih and all our Pakistani brothers and sisters who are victims of religious abuse.
We wish you a very happy and prosper 2013.
Thank you,
Naeem Akhtar
Vice Chairman for National and International Affairs
International Christian Voice Canada
This message and any attachments are intended only for the use of the intended recipient(s) and are confidential. If you are not the intended recipient, you are hereby notified that any review, retransmission, conversion to hard copy, copying, circulation or other use of message and any attachments is strictly prohibited. If you are not the intended recipient, please notify the sender immediately by return e-mail, and delete this message and any attachments from your system. Thank you.
23rd December 2012

The Chairman

International Christian Voice

Toronto

Canada

Dear Mr Peter Bhatti,

This letter gratefully acknowledges having received from International Christian Voice, the

amount totaling CAD 7000, that has been distributed as instructed by you, that is, CAD 3500 for

Rimsha and CAD3500 for the Christian Community that were affected by this case.

The funds for Rimsha went towards her legal fees that were incurred during her trial as well as

resettlement with her family to a safer location. The Christian community that was affected by

this case has received food packages for the Christmas season this week.

Please extend our heartfelt thanks and appreciation for all who gave for this needful cause, your

action of love through your giving and prayers brought such a wonderful result for Rimsha and

your actions for the community affected by this wrongful accusation. It is so encouraging to

know that they are not alone that you are truly with them.

Thank you to all at International Christian Voice for your ongoing solidarity and support for all of

out efforts here in Pakistan, we are very grateful for your partnership with us.

May God truly bless you, your families and community this Christmas season with love, unity,

peace and every success throughout the coming years.

Sincerely

Dr Paul Bhatti

Chairman

All Pakistan Minorities Alliance (APMA)
Comments
comments