Why we chose Bilawal Bhutto Zardari -by Riaz Ali Toori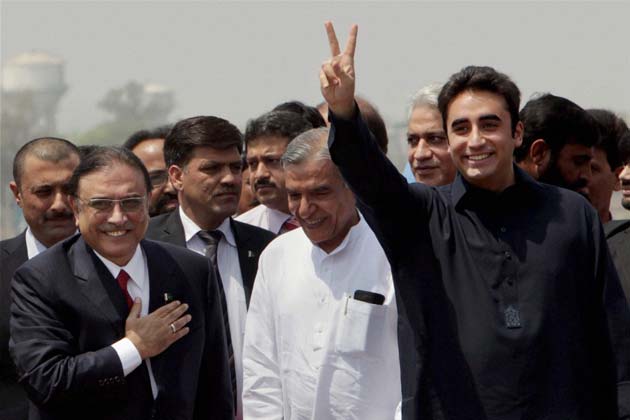 The young generation of every country in the world is considered a great asset as it plays a key part in the process of the country's development. Positive role of youngsters always keeps the nation upfront at the international level because through their contribution, the nation can move on and on in the right direction of prosperity. Pakistan's growth depends heavily on the thinking of youngsters and the country will remain on safe grounds if our youth loves our country perpetually and works hard to make it an eminent nation on this planet. Along with the youth's potential to change the fate of this country we also need an educated, futurist and potential young leadership.
The primary role of young people is to get a good standard education today, to become quality citizens of tomorrow. They need to learn skills to serve the nation and boost the economy of the country. They also need to know how to perceive, understand, think and analyse multiple issues facing their country and actively participate in its political affairs. They need to study its history, to be proud of its past, to make sense of its present, to chart the course of its future.
In the recent past the social media has vastly influenced our youth and we are witnessing their interest in political affairs of the country in both the domestic and international domain but it is not sufficient because politics is a practical service of the nation that cannot be accomplished alone through using social media, a few tweets and comments on facebook while sitting in well facilitated cafes. Our youth needs to come forward and take over the driving seat in order to take the country towards right directions.
Young people can also help to build a nation by becoming actively involved in social causes along with participation in politics so that they can work for peace, human rights, and environmental issues and for the cause of minorities.
Pakistan is presently facing terrorism and extremism for which we do not need a leadership that is either silent on terrorism or has sympathies with terrorist organizations for the sake of a few votes. This way we cannot rescue Pakistan from the quagmire of terrorism and extremism.
It is welcoming to see youngsters like Bilawal Bhutto Zardari Co-Chairman Pakistan Peoples Party, Moonis Elahi from Pakistan Muslim League, Hamza Shahbaz and Maryam Nawaz from PMLN on the political front. It was the vision of President Asif Ali Zardari who, after martyrdom of Shaheed Benazir Bhutto chose one of our youth in order to appreciate and evaluate the role of our youth in the political affairs of our country.
If we look deeply into our past, we see a young MA Jinnah, ZA Bhutto then Shaheed Mohtarma Benazir Bhutto who were all highly energetic and active participants in the political affairs of Pakistan. No doubt it was all because of these few personalities that Pakistan's name has shone globally. However, it is quite crucial and important to choose visionary leadership today for a better Pakistan tomorrow. These political scions indeed boast a political background but it does not mean that they were capable or had the vision to run this country on better lines, for vision alone is inadequate to run a country in the absence of an ideology. At this stage, when Pakistan is at the cross roads facing mammoth challenges on political, economical and security fronts, it would be quite sagacious to narrow the lens of our choice.
It is very unfortunate that only PPP is inheritor of secular norms and principles that nudge this country on the way of prosperity and progress. Z.A Bhutto Shaheed, Mohtarma Benazir Bhutto Shaheed and then President Asif Ali Zardari practiced these norms of secularity and tolerance. Bilawal Bhutto Zardari indeed cannot deviate from the set ideology and principles of his forefathers. Unlike other youngsters that proved much introvert under the narrow minded policies of their parties, Bilawal Bhutto Zardari seems quite extrovert with a better vision, perception and ideas about global changes.
Where there is an issue of human rights violation, brutality of the inhumane Taliban, exploitation of minorities, we see only Bilawal Bhutto Zardari single-handedly condemning it and asking his party workers to stand like a solid rock wall against terrorists and extremists.
Bilawal has always vehemently condemned human rights violation and boldly spoken against atrocities committed by Taliban, something that is quite amongst the present political stalwarts.
Engulfed by huge problems, we cannot afford that our future leaders be of limited ideology that fuels only domestic politics and gimmicks to remain in power. In order to integrate ourselves with the modern, developed world we need leaders of international standards like Z.A Bhutto and Shaheed Benazir Bhutto. Following the life and policies of his mother and grandpa, Bilawal Bhutto Zardari can fulfil the vacuum, created after the martyrdom of Mohtarma Benazir Bhutto Shaheed.
Although Bilawal is not practically into politics, the statements and speeches delivered by the younger Zardari, brings on the nostalgia of the past period of PPP rule by his mother. We have seen that Bilawal Bhutto Zardari is following the footsteps of his grandfather and his mother who sacrificed their lives for Pakistan and its people. Shaheed Benazir Bhutto's entire life is marked with struggle for the empowerment of the poor oppressed people, empowerment of women and for the rights of minorities.
PPP is the only secular party of Pakistan that always fought for the rights of minorities and gave them maximum protection. Considering PPP as merely a political party is totally wrong. PPP is an ideology, a vision and a thought. Indeed, Shaheed Zulfikar Ali Bhutto and Mohtarma Benazir Bhutto Shaheed were the founders of the very basis of this party, but after them deeming that the party's existence is over, is absurd. Bilawal Bhutto Zardari has the potential, courage, vision and ideology that can keep Pakistan afloat on both the domestic and international fronts.
Moreover the workers of PPP, from the earthly paradise Parachinar and mountainous Gilgit-Baltistan to the seashore of Karachi, love and trust the leadership of Bilawal Bhutto Zardari just as they had loved ZA Bhutto and Shaheed Benazir Bhutto after that.
Presidential Adviser Farahnaz Ispahani rightly says, "The politics of principle is still alive and I believe that the PPP chairman is delivering and will continue to deliver into the future. Give him a chance."
Source: Daily Times
Comments
comments