Smile Never Dies – a book on Fauzia Wahab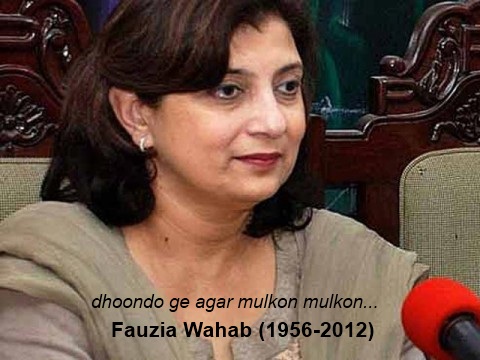 Mr. Mujahid Barelvi, a senior journalist and a very good family friend of late Mrs. Fauzia Wahab, has compiled a book on Mrs Wahaba titled "Muskarahat Zinda Rehti Hay" or a "Smile Never dies".
The book is set to be launched at the Karachi Press Club on Saturday, November 10, 2012 at 5 pm.
If you happen to be in Karachi on that date, please make it convenient to attend the event.
In September 2012, the book was launched in London at the Pakistan High Commission.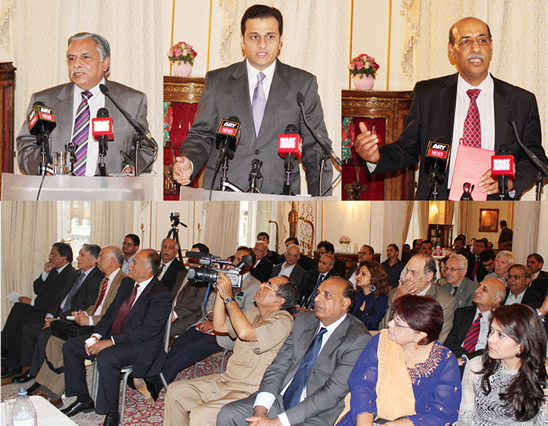 Mr. Mujahid Barelvi, Mr Murtaza Wahab and Mr Mushtaq Lashare addressing at the launch of book titled "Smiles Never Die" compiled and edited by Mr Mujahid Barelvi at Pakistan High Commission London on 17-09-2012.
The book launch event at London was organised by Mr Mushtaq Lasharie, Chairman Third World Solidarity in collaboration with Pakistan High Commission, London.
Speaking on the occasion Pakistan High Commissioner for UK paid glowing tribute to late Fauzia Wahab for her services to the cause of democracy in Pakistan. He termed her an upright and courageous politician who always remained steadfast during her political struggle. The High Commissioner also commended Mr Mujahid Barelvi's effort for expertly editing the book that covers various aspects of Ms Wahab's life.
Mr Mushtaq Lasharie and late Fauzia Wahab's son Mr Murtaza Wahab also spoke on the occasion and highlighted various aspects of Ms Wahab's personality. Fauzia Wahab (November 14, 1956 – June 17, 2012) was a leading woman politician. She was a member of National Assembly from Sindh province. She held various political portfolios during her political career.
Mujahid Barelvi is a veteran journalist from Pakistan. He currently hosts a daily talk show, "Doosra Pehlu", on CNBC Pakistan. He was also elected the Secretary of the Karachi Press Club for two years in 1987. He is a prolific writer and contributes regularly for the newspapers and journals. Mr Barelvi is a progressive writer and has authored six books. He founded various magazines, weeklies, and monthlies including Sonehra Daur, Karachi in the 80's.
Comments
comments