Finally, the Khan speaks out on Shia genocide – by Shyema Sajja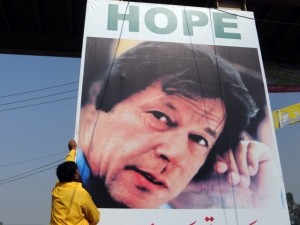 Last week, I had written about the recent Shia killings– wondering aloud how such an issue could be overlooked by the politicians and judiciary who instead chose to focus on matters so trivial that it was appalling to see the complete disregard for precious human lives.
Where MQM Chief Altaf Hussain had condemned the killings and called for action against the atrocities, his voice was lost amongst the sheer silence of other political leaders who remained mum on the issue. However, on Sunday, Pakistan Tehreek-e-Insaf (PTI) Chairman Imran Khan was the first politician in the country to finally speak up on the recent killings and brought in focus the judiciary's sheer apathy on the violence.
Call him over-ambitious, criticize his blurry policies and accuse him of living in a fantasy world, but give him credit for finally taking a stand and asking Chief Justice Iftikhar Mohammed Chaudhry to take suo motu notice of Shia killings across the country. What impact his call for justice will have is yet to be seen but the development nonetheless, cannot be ignored considering the gross silence prevailing otherwise.
Pakistan has recorded at least 2,642 sectarian attacks, killing 3,963 people since 1989, according to theSouth Asia Terrorism Portal (SATP) database. Those targeted are no longer personalities of prominence or popularity – they are the common men. The Shia common men – who apparently aren't important enough in the eyes of the PPP-led government which continues to carry on with its own agenda that seems to revolve more around acquiring wealth and votes than securing the country.
During his visit to Skardu, Khan called for the government to resign if it could not protect the citizens – wishful thinking on his part though, because no amount of humiliation and failures could make this government resign. However, once again, Khan's statements, visits and call for justice were a step in the right direction – especially for someone looking to lead a country and not just a specific religious sect belonging to it. It would also help if Khan perhaps insisted a little less on how this is not completely 'our war', considering the killings taking place are mainly in KP and Balochistan where militancy is widespread and where most law enforcement agencies are operating. Repeating the rhetoric about whose war this is will not end the killings – only immediate action against the perpetrators can put an end to this brutality.
The call for justice could be made stronger and louder if other political parties joined him here regardless of conflicting views they may have on other issues – the stance on targeting human lives, be it whatever sect or religion they belong to, should be uniformed: no tolerance.
The judiciary needs to do its part here by realising that nothing can be more urgent than securing the lives of people of Pakistan. Label the killings as you please but fact remains that they are barbaric and horrific and if the government leaders are falling short in providing security to the citizens, it should be the Chief Justice's duty to take his favourite kind of notice – this time for something that urgently needs it.
Source: Dawn
Comments
comments