Haka Phase 2: LeJ-ASWJ terrorists threaten Bilawal Bhutto Zardari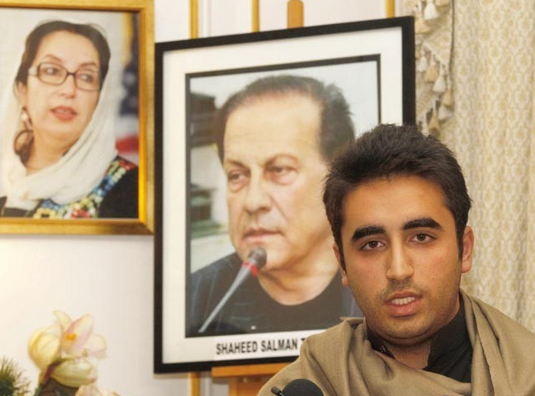 Related post: After Taseer, haka is ready for Bilawal?
Bilawal Bhutto Zardari on Thursday, 27 March 2014, revealed that he has received threats from the banned Deobandi terrorist outfit Lashkar-e-Jhangvi (LeJ). He tweeted that he had received threats and that he would hold the Punjab government responsible for any attacks especially if they fail to act against the banned outfit.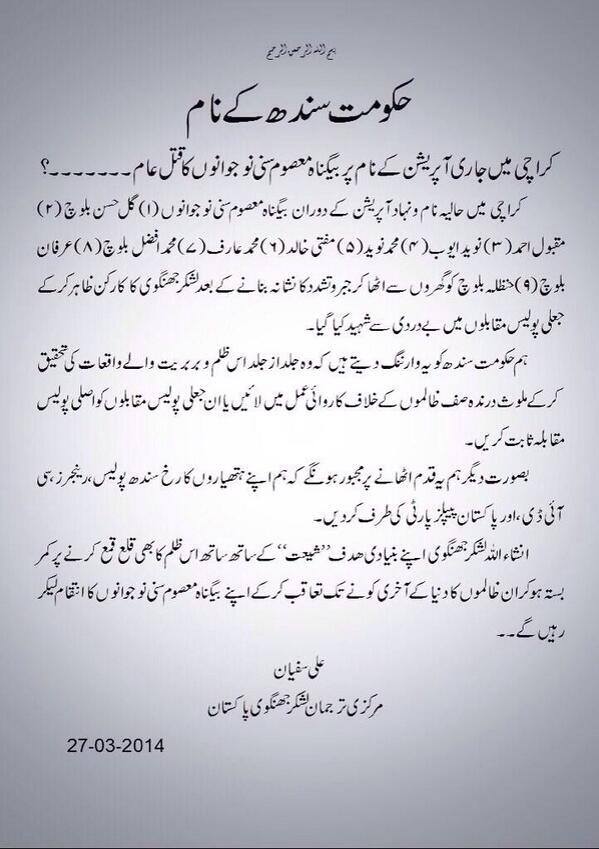 It may be recalled that the Lashkar-e-Jhangvi and its mother organisation Sipah-e-Sahaba Pakistan are formally banned in Pakistan. The SSP-LeJ terrorist network is currently active under a new name Ahle Sunnat Wal Jamaat (ASWJ) which is known for close links with PM Nawaz Sharif and his younger brother Punjab CM Shahbaz Sharif.
Bilawal Bhutto Zardari has repeatedly accused the Punjab government of sheltering the takfiri Khawarij terrorists of the LeJ-ASWJ-SSP. The group has recently sent threatening letters to the Sindh government, warning them to stop "atrocities" against Deobandis (LeJ-ASWJ, TTP), otherwise they would resort to targeting law enforcing agencies and government officials. The Taliban- and AlQaeda-linked terror group LeJ-ASWK has massacred thousands of Sunni Barelvis/Sufis, Shias and hundreds of Christians and Ahmadis in the last few years.
Earlier on March 21, a Lahore High Court division bench granted bail to Malik Ishaq Deobandi, leader of Ahle Sunnat Wal Jamaat (SSP-LeJ), in two cases where is he accused of delivering provocative speeches. Malik Ishaq is on the global terrorist list maintained by the US Department of State. Punjab CM Shahbaz Sharif is known for his links with Malik Ishaq and other leaders of the ASWJ-LeJ-SSP outfit.
On social media, Dr Ayesha Siddiqa pointed out that Bilawal Bhutto Zardari should also take note of the growing influence of Deobandi and Salafi/Wahabi outfits (Sipah-e-Sahaba and Jamaat-ud-Dawa) in urban and rural areas of Sindh. In recent months, known hate clerics such as Ahmed Ludhyanvi Deobandi and Hafiz Saeed Salafi have been touring Karachi and interior Sindh for the purpose of recruitment and brainwashing.
Ironically, some of Bilawal's advisors including Sherry Rehman and a director of an ISI-friendly thinktank are known for close links with Shahbaz Sharif and other members of the pro-TTP establishment and clerics. We are concerned that after Salman Taseer, haka is ready for Bilawal in which right-wing and fake liberal affiliates of the establishment are fully involved. http://lubpak.com/archives/305225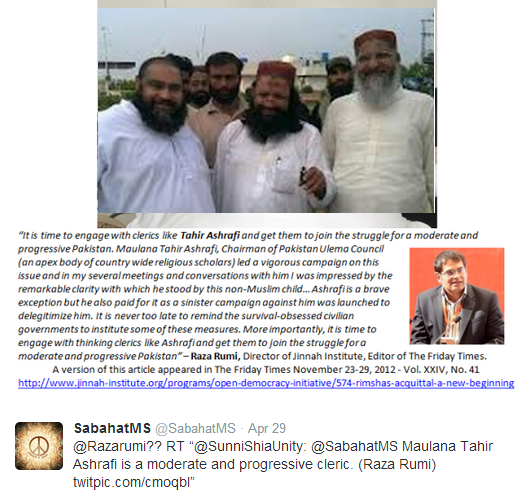 Humanizing terrorism: Editor of Ahmadiyya Times criticizes fake liberals http://lubpak.com/archives/308903
Bilawal must note that Aurangzeb Farooqi of Karachi is no less dangerous than Malik Ishaq of Punjab. Apparently, the Sherry Rehman lobby of elitist liberals is misguiding PPP's young leadership.
We are concerned for Bilawal Bhutto Zardari's safety and urge him to instruct Sindh government to arrest Aurangzeb Farooqi and other known terrorists of the LeJ-ASWJ-SSP network. We also urge him to distance from those fake liberals who are known for flattering Punjab CM Shahbaz Sharif and are also known for promoting and eulogizing pro-Taliban clerics. We also urge Pakistan's PM Nawaz Sharif and army chief Raheel Sharif to start clean-up operation against the banned terrorist outfit ASWJ (new name of LeJ-SSP) by arresting and neutralizing its terrorists led by Ahmed Luhdyanvi, Ramzan Mengal, Aurangzeb Farooqi, Malik Ishaq, Ghulam Rasool, Khadim Dhillon, Khalifa Abdul Qayyum etc.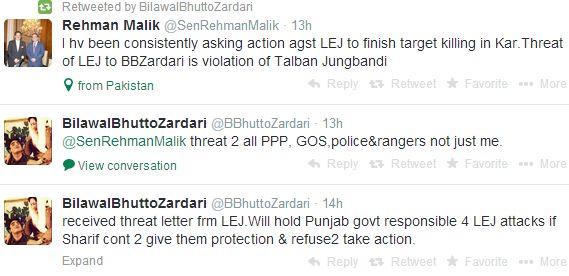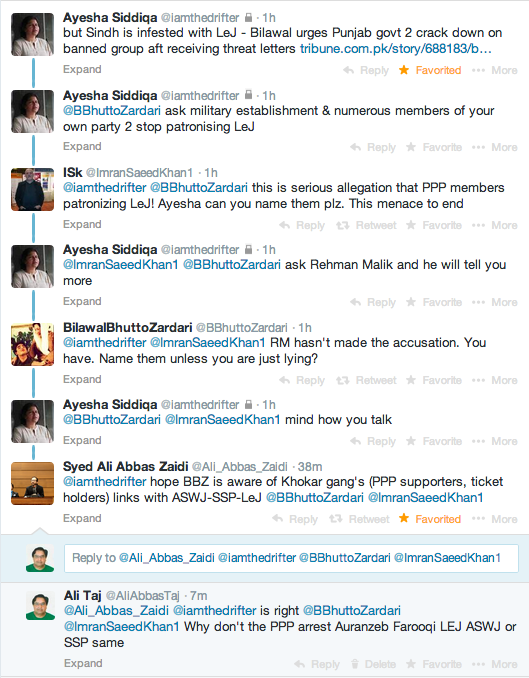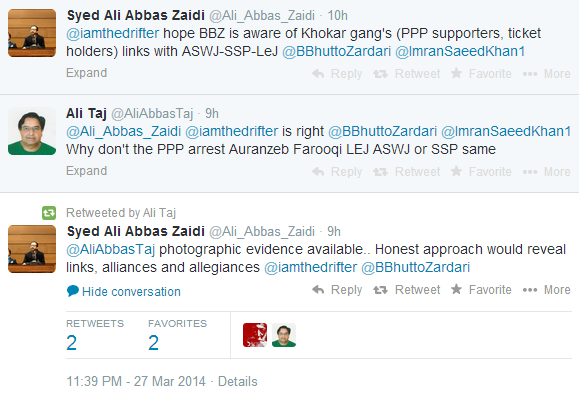 http://tribune.com.pk/story/688183/bilawal-receives-threat-letters/
Comments
comments