Who will stand for Ahmadis in Pakistan? – by Husain Nadim
The use of anti-Ahmadi rhetoric by political parties raises a serious question: Is there anyone who will ever stand up for their rights? 
"It's almost laughable. You first forcefully declare us a minority, then you promise to protect minority rights, and when you fail, you conveniently say sorry," an Ahmadi that I interviewed recently for my elections research laughed at the contradiction and hopelessness in Pakistan. Behind his laugh, I could sense the pain and fear that has engulfed the minorities, especially the Ahmadis, in Pakistan. While the cities and media is buzzing with the slogans of 'Roshan' (bright) and 'Naya' (new) Pakistan, Ahmadis have been ambushed by political parties in their struggle for electoral seats. Politicians have gone the distance to prove themselves good Muslims, the criterion of which in Pakistan is to believe in One God and the Prophet (PBUH), and to also consider Ahmadis as 'kafir' (infidel). Political compulsion it might be for most of them, but for Ahmadis it is a sad reality check of the diminishing space to breathe in society. "How will these politicians take a stand for anything when they can't take a principled stand for the weak in society," an Ahmadi showed his distaste for the recent fiasco between the Pakistan Tehreek-e-Insaaf (PTI) and Jamiat-e-Ulema-i-Islam-Fazl (JUI-F) on the Ahmadi issue that got viral on the social media.
Ahmadis are scared that using their sect as a political tool for votes will lead the youth and the nation into hyper-radicalisation, and Ahmadis will become the natural target of frustration. "You know that the German Jews couldn't have predicted the coming of the Holocaust. It began with years of systematic social isolation, hatred, and conspiracies against them, and then Hitler came, and we saw what happened. I see Pakistan heading towards that for us." As unbelievable as this statement from one of the Ahmadis who participated in WWII on the side of the Allies appears, in the past few months, while the nation had been busy with elections, Ahmadis are being silently targeted, not only by religious extremists, but by government itself in all the major cities, especially in Lahore under the interim setup of Chief Minister Najam Sethi. However, none of the atrocities are being reported as 'breaking news' on the mainstream media outlets.
"In the past two weeks our mosques have been raided by the police, our publication shops turned into a mess, and we have been barred and threatened by the police not to have any of our literature at our home, nor have any religious meetings in our centres." An Ahmadi in a position of authority who requested anonymity explained in frustration: "They have even told us that they have the list of all addresses of Ahmadis, and they will raid houses to confiscate any literature," which gave a glimpse of the Nazi-era style of discrimination against the Jews. "We are being systematically forced to leave this country, this land. More than Ahmadi, I'm a Punjabi and my family has lived on this land for centuries, and today I don't have an option but to leave." Tears rolled out of this old man, whose father was a wealthy businessman at the time of partition and sold all his possessions to give funds to the Pakistan Muslim League. Today, he is being forced out of the land of his forefathers.
The discrimination does not stop here, as another tragic event took place a week before the elections in Gulshan-e-Ravi, Lahore, where the police raided an Ahmadi centre and arrested the people who were offering their prayers. On top of charging them under the Hudood law of 'imitating Muslim practices', the men arrested were also accused of conspiring against the state and for terrorism. The arrested persons included an 83-year-old man, and a few minors. During the court proceedings, the High Court dismissed the case, calling it a politically motivated attempt by people in the area, but in a matter of hours, after severe pressure from right wingers, the judge refused to give bail to the detainees. According to the lawyer who is defending the Ahmadis, "No judge is willing to take a stand for Ahmadis against these right wing mullahs," who threaten the judges and get their way. One is forced to ask this simple question: on whose authority is all this being done, and why is the government so hopeless against these right wingers? Is it also equally involved?
I asked an Ahmadi for his opinion on this question to which he responded, "We are political suicide for any politician in Pakistan. Even a dictator like Musharraf who genuinely felt the pain for us, and during whose tenure, in spite of whatever was happening in Pakistan, minorities were protected and discriminated against less, could not reverse the constitutional discrimination against us. He had to bow down to the religious fanatics at last, the same way Zulfiqar Ali Bhutto gave in back in the 1970s."
When it comes to Ahmadis it is not just the illiterate class that hates and discriminates the community, even the educated and the affluent have little sympathy. While these elections might prove to be a positive tide for Pakistan, the use of anti-Ahmadi rhetoric by political parties raises a serious question, and a concern for millions of Ahmadis who live in Pakistan.
Is there anyone who will ever stand up for their rights?
The writer is a lecturer at the National University of Science and Technology (NUST) in Islamabad. He is also an Associate Fellow at the International Centre for the Study of Radicalisation (ICSR), Kings College, London. He can be reached at hnm87@gwmail.gwu.edu
Source:
http://www.dailytimes.com.pk/default.asp?page=2013%5C06%5C03%5Cstory_3-6-2013_pg3_3#.UawgZnhAg34.twitter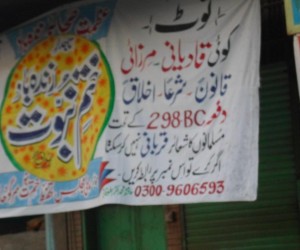 Comments
comments