Remembering Shaheed Salman Taseer – by H.A.Khan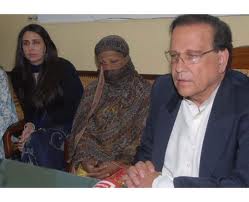 I still remember I was walking on the street in Dubai after my office, I received a call from my boss that just now he had seen the news of the assassination of the late governor Salman Taseer.I was shocked to heard that tragic news and instantly called my father and talked with him on this issue and rushed to my home. I switched on the TV and all channels were giving the breaking news of the brutal assassination of Salman Taseer by his guard Mumtaz Qadri. After watching the news I became much sad and worried that Salman Taseer was the voice of the oppressed and as he was supporting the Christian girl Asia whom was alleged with the blasphemy law.
The only crime of Salman Taseer was that he was supporting that poor helpless girl against all the powers and supporters of the darkness .He had rightly described that she was innocent girl and she was being treated with all the state discrimination in the name of their worst and dark ideology. He had correctly criticized the dark laws made by the brutal dictator Zia ul haq just for his dictatorship at that time and his darkest rule in Pakistan.
Later on it was so tragic that the 500 Ahle Sunnah Ulema and other Ulemas gave  unanimous Fatwa stating that no one should praise the governor and shouldn't go to attend his funeral. I felt so sad even today as remembering the courageous Governor with his correct and powerful stance. I protest with the current governments(Punjab & Federal)that still there is no news of his kidnapped son, the fanatic murderer Mumtaz Qadri is alive and enjoying all comforts in jail.
I strongly believe that Mumtaz Qadri should be made an example with brutality that no one should even think of repeating this worst and brutal act again. The state should take massive action against all these Islamic theocratic mindset crushing them till their last breathe. I salute Salman Taseer for his bravery and courage. I salute for his historical stance against the forces of evil and darkness.
Comments
comments