Organised intimidation camaign against Shia as Muharram approaches – by Ale Natiq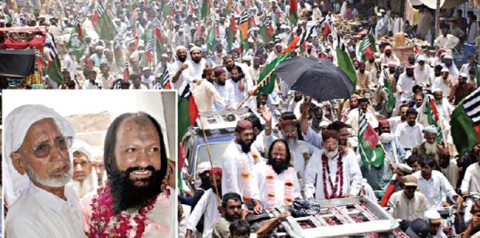 40 million Shia of Pakistan have had a troubled history in Pakistan. Despite making up more than 15% of the population, they have been victims of the worst kind of persecution and violence which is nothing short of a Genocide. The last few years have been tragic on the whole but Muharram has always remained the time of the year when the target killing of the Shia is widespread across the country.
Takfiri Deobandis (aka Taliban and Sipah-e-Sahaba) have who bully the Shia all round the year have launched an organised intimidation campaign against the Shia as Muharram approaches this year. Pamphlets, flyers and social media has been used extensively for this purpose. I have been monitoring a few blogs, websites, twitter accounts and Facebook pages and have seen an organised campaign being built up for a few months where a particular message was repeatedly conveyed in a very organised manner.
The Takfiri message through this intimidation camapign against Shia is:

Reiterate that Shia are kaafir and spread this among the masses.

Call for a ban against Shia rituals and demand to restrict them to Imam Bargahs.

Demand an end to the protection and security offered by state to the Shia during Muharram rituals.

Hate speech and incitement to violence with the usual excuse of abusing Sahaba.

Making use of a 'Sahaba Abuse HOTLINE' and respond with intomidation through violence or blasphemy cases.

Make the days associated with Sahaba more popular and commemorate them on the same lines as Shia commemorates Muharaam; however, conveniently calling Shia kaafir doing so.

Demand public holidays for days associated with Sahaba, but actually asking to remove the holidays associated with Ashura.
Threats and intimidation by Lashkar-e-Jhangvi during Muharram 2012
Lashkar-e-Jhangvi Takfiri fatwa calling for open violence against Shia in Muharram 2012
Organised Intimidation Campaign against Shia in Pakistan by Takfiri Deobandis (Sipah Sahaba/ Lashkar-e-Jhangvi etc) as Muharram 2012 approaches
Intimidation Campaign by Takfiri Deobandis against Shia as Muharram approaches
The poster above has been circulated widely in the cyberworld through social networks, blogs and websites. It has been in cirulation for a few months now and it was spread on purpose as Muharram was approaching. It asks the general public to call at the given numbers and inform if there is any abusive/critical content on the Sahaba on TV channels, newspapers or live telecasts.
Whose telephone numbers are those? And in which capacity will they collect this information and act on it?  Sahaba kay naukar, as one would guess. This is nothing but another excuse to burn public property, disrupt the Muharram jaloos and majalis and possibly go violent killing a few Shia, as overtime they have become quite good at it.
It didn't take much to set alight a church and a school, burning holy scriptures and looting all in the building back in September. It wouldn't take that phone call call to kill a few Shia, bomb a jaloos or set alight an Imam Bargah.
Mardan (Sep 2012): A church and a school burnt alongwith holy scriptures and all property looted from the building.
Calling for ban on Jaloos/Majalis and Restricting Shia to Imam Bargahs
The second demand of the same campaign is to put a ban on all Shia rituals of Muharram including Jaloos,Majalis and restricting Shia to Imam Bargahs.
Restrict Shia to Imam Bargahs and putting a ban on Shia rituals of Muharram
Ban Shia Matam on Roads in Muharram
Takfiri fatwas in circulation again as part of the organised intimidation campaign before Muharram 2012
Takfiri Fatwas against Shia in circulation again before Muharram 2012
Calling for national holiday for Sahaba and commemorating the days associated with Sahaba
The campaign is not limited to its anti-Shia propaganda but on the other hand it demands nationalholidays on days associated with the Sahaba. Further, they have been trying to make an event out of the these days by commenorating these days in the fashion Shia normally do, while they continue to malign Shia and issue fatwas on them for doing this. Competition?
Several similar images were spread online as part of an organised campaign to commemorate days associated with Sahaba on the same level and with same fervour as the Ashura. However, they continue to malign the Shia for commeorating those special days issues fatwas of Kufar on them.
It is apprently okay to have rallies on day associated with Hazrat Usman but jaloos rallies in Muharram are not okay!
Another Takfiri fatwa issues by Lashkar-e-Jhangvi openly inciting Shia bloodshed (old)
Old Takfiri fatwa by Lashkar Jhanvi on Shia
Note: I have only taken snapshots from a couple of pages but the same images can be seen on almost all pages, groups, blogs and online presence of Takfiri Deobandis specially Sipah Sahaba and Lashkar groups.
Source: aleXpressed
Comments
comments